55-year-old Kamala Harris (22 years the junior of Joe Biden) faced off across a 12-foot void of 'potentially-deadly-air' and 'plexiglass' against 61-year-old Mike Pence (13 years younger than President Trump) with USA Today's (and Nancy Pelosi biographer) Susan Page as the 'moderator' at the University of Utah in Salt Lake City… all without wearing masks!
Ahead of the debate, despite media's constant crowing about Biden's double-digit lead in national polls, Trump is slightly outperforming against Biden relative to Hillary in the battleground states…

Following a similar pattern – but with a notably higher probability of winning in November – relative to his performance against Hillary…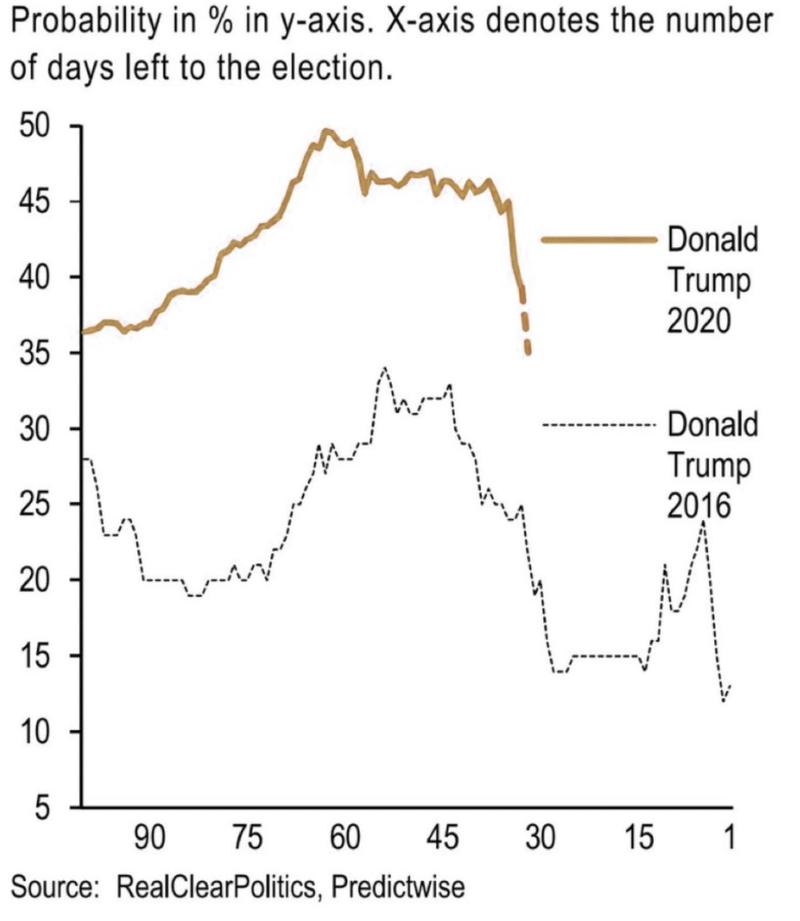 It was not pretty!
Summary (of the nine discussion topics):
1. COVID Response – Pence won – a body-blow slamming Kamala on vaccines: "stop playing politics with people's lives."

2. Health Of Candidates – Tie – neither candidate answered but if we had to pick, Pence shaded it as Kamala discussed herself.

3. The Economy – Pence won – the vice-president crushed Harris on Biden taxes (briefly silencing her over Trump tax cut repeal).

4. Climate Change – Pence won – perhaps surprisingly but Harris was unable to recover from being cornered on her sponsorship of the Green New Deal

5. China – Pence won – Harris facts all over the place and Pence closed with Biden's "cheerleading" for China.

6. Foreign Relations – Tie – both candidates parried each other's running mate's performance

7. The Supreme Court – Pence won – Harris refused to answer the question of packing the court and Pence was frank about being "pro-life."

8. Racial Justice – Pence won – again rather stunningly, Pence crushed Harris on misleading quotes and soundbites

9. Transfer Of Power – Pence won – while Harris went "vote now", Pence reminded the audience that Harris party spent the last four years trying to overturn the previous election
Pence dominated Harris as finally, questions were asked and answered and facts were checked!