« Back to Glossary Index
(DTRA) A U.S. sub-agency of the Dept. of Defense, ostensibly to reduce the threat posed by weapons of mass destruction. However, Dilyana Gaytandzhieva, a courageous Bulgarian journalist, exposed that the agency secretly funds (under a $ 2.1 billion military program) bio-warfare scientists using diplomatic cover to test man-made viruses at Pentagon bio laboratories in 25 countries across the world… located in former Soviet Union countries such as Georgia and Ukraine, the Middle East, South East Asia and Africa. Prior to 1996, the DTRA was perhaps more accurately referred to as Defense Special Weapons Agency.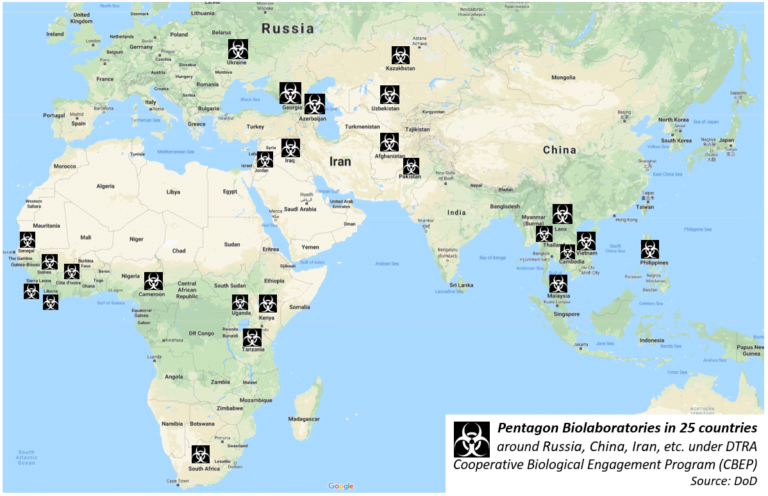 According to their government website, "DTRA works to protect U.S. national security interests in a rapidly evolving, globalized threat environment through it's trans regional focus and strong partnerships, protects U.S. National Security interests in a rapidly evolving, globalized threat environment to enable a greater understanding of our adversaries and provide solutions to WMD threats in an era of Great Power Competition. (Their) workforce includes an integrated mix of personnel from government, military, and industry, blending a variety of skillsets and expertise to detect, deter, and defeat WMD and emerging threats.
DTRA partners with the Interagency for positive control over U.S. nuclear weapons, components, and materials by monitoring status of the U.S. nuclear arsenal and maintaining nuclear security technologies and safety training, guidance, standards, and policies are integrated into the DoD's nuclear deterrent."
Georgia is a testing ground for bioweapons
The Lugar Center is the Pentagon bio laboratory in Georgia. It is located just 17 km away from the US Vaziani military airbase in the capital Tbilisi. Tasked with the military program are biologists from the US Army Medical Research Unit-Georgia (USAMRU-G) along with private contractors. The Bio-safety Level 3 Laboratory is accessible only to US citizens with security clearance. They are accorded diplomatic immunity under the 2002 US-Georgia Agreement on defense cooperation.
The USA-Georgia agreement accords diplomatic status to the US military and civilian personnel (including diplomatic vehicles), working on the Pentagon program in Georgia.
Information obtained from the US federal contracts registry clarifies some of the military activities at The Lugar Center – among them research on bio- agents (anthrax, tularemia) and viral diseases (e.g. Crimean-Congo Hemorrhagic Fever), and the collection of biological samples for future experiments.
Pentagon contractors produce bio agents under diplomatic cover
The Defense Threat Reduction Agency has outsourced much of the work under the military program to private companies, which are not held accountable to Congress, and which can operate more freely and move around the rule of law.
US civilian personnel performing work at The Lugar Center have also been given diplomatic immunity, although they are not diplomats. Hence, private companies can perform work, under diplomatic cover, for the US government without being under the direct control of the host state – in this case the Republic of Georgia. This practice is often used by the CIA to provide cover for its agents.
Three private American companies work at the US bio-laboratory in Tbilisi – CH2M Hill, Battelle and Metabiota. In addition to the Pentagon, these private contractors perform biological research for the CIA and various other government agencies.
CH2M Hill has been awarded $341.5 million DTRA contracts under the Pentagon's program for bio-laboratories in Georgia, Uganda, Tanzania, Iraq, Afghanistan, South East Asia. Half of this sum ($161.1 million), being allocated to The Lugar Center, under the Georgian contract.
According to CH2M Hill, the US Company has secured biological agents and employed former bio warfare scientists at The Lugar Center. These are scientists who are working for another American company involved in the military program in Georgia – Battelle Memorial Institute.
Battelle as a $59 million subcontractor at Lugar Center has extensive experience in research on bio-agents, as the company has already worked on the US Bio-weapons Program under 11 previous contracts with the US Army (1952-1966).
The private company performs work for the Pentagon's DTRA bio laboratories in Afghanistan, Armenia, Georgia, Uganda, Tanzania, Iraq, Afghanistan and Vietnam. Battelle conducts research, development, testing, and evaluation using both highly toxic chemicals and highly pathogenic biological agents for a wide range of US government agencies. It has been awarded some $2 billion federal contracts in total and ranks 23 on the Top 100 US government contractors list.
It all began with Project Clear Vision. The studies tied to this have been cleansed and published by the "on the make" academics and scientists who took the CIA's cash and turned off their common sense and professional ethics.
Top Secret Experiments
Battelle has operated a Top Secret Bio laboratory (National Biodefense Analysis and Countermeasures Center – NBACC) at Fort Detrick, Maryland under a US Department of Homeland Security (DHS) contract for the last decade. The company has been awarded a $344.4 million federal contract (2006 – 2016) and another $17.3 million contract (2015 -2026) by DHS.
Amongst the secret experiments, performed by Battelle at NBACC, are: Assessment of powder dissemination technology ; Assessment of hazard posed by aerosolized toxins and Assessment of virulence of B. Pseudomallei (Meliodosis) as a function of aerosol particle in non-human primates. Melioidosis has the potential to be developed as a biological weapon, hence, it is classed as a category B. Bioterrorism Agent. B. Pseudomallei was studied by the US as a potential bioweapon in the past.
Amongst them to characterize classical, emerging and genetically engineered pathogens for their BTA (biological threat agent) potential; assess the nature of nontraditional, novel and non-endemic induction of disease from potential BTA and to expand aerosol-challenge testing capacity for non-human primates.
Tularemia as Bioweapon
Tularemia, also known as Rabbit Fever, is classified as a bioterrorism agent and was developed in the past as such by the US. However, the Pentagon's research on tularemia continues, as well as on possible vectors of the bacteria such as ticks and rodents which cause the disease.
The DTRA has launched a number of projects on Tularemia along with other especially dangerous pathogens in Georgia. Especially Dangerous Pathogens (EDPs), or select agents, represent a major concern for the public health globally.
These highly pathogenic agents have the potential to be weaponized with proof of their military importance seen through the following Pentagon projects: Epidemiology and Ecology of Tularemia in Georgia (2013-2016) (60 000 vectors were collected for strain isolates and genome research); Epidemiology of Human Tularemia in Georgia and Human Disease Epidemiology and Surveillance of Especially Dangerous Pathogens in Georgia (study of select agents among patients with undifferentiated fever and hemorrhagic fever/septic shock).
Tularemia is one of the bio-weapons that the US Army developed in the past.
Source: 1981 US Army Report
Pentagon bio-laboratories spread diseases in Ukraine
The DoD Defense Threat Reduction Agency (DTRA) has funded 11 bio-laboratories in the former Soviet Union Country Ukraine, bordering on Russia. DTRA has allocated $80 million for biological research in Ukraine as of 30 July 2020, according to information obtained from the US Federal contracts registry. Tasked with the program is the US company Black &Veatch Special Projects Corp.
Another DTRA contractor operating in Ukraine is CH2M Hill. The American company has been awarded a $22.8 million contract (2020-2023) for the reconstruction and equipment of two biolaboratories: the State Scientific Research Institute of Laboratory Diagnostics and Veterinary-Sanitary Expertise (Kyiv ILD) and the State Service of Ukraine for Food Safety and Consumer Protection Regional Diagnostic Laboratory (Odesa RDL).
Continued on next page…