« Back to Glossary Index
located at the Office of the Director of US National Intelligence (ODNI), some sentiment suggest that this might be a Disinformation Governance Board 2.0. With a similar declarative focus on foreign threat, is easy to transition, as a smokescreen, to turning the authorities' sights onto "domestic dissenters." That would mean more censorship, in effect flying under the radar, critics fear. A deceptive tactic, they continue, which could easily use foreign threats simply as an excuse to influence politics at home. Tthe FMIC could also "duplicate" other US efforts, such as that of a State Department's unit that has taken it upon itself to suppress what's seen as "populism" in other countries.
Now, this is what the FMIC has to say for – and about itself – the threat from abroad is constant and "dynamic" – no doubt – but therefore, "informing efforts to counter it requires constant attention, a whole-of-government approach, support from the private sector, and engagement from the public."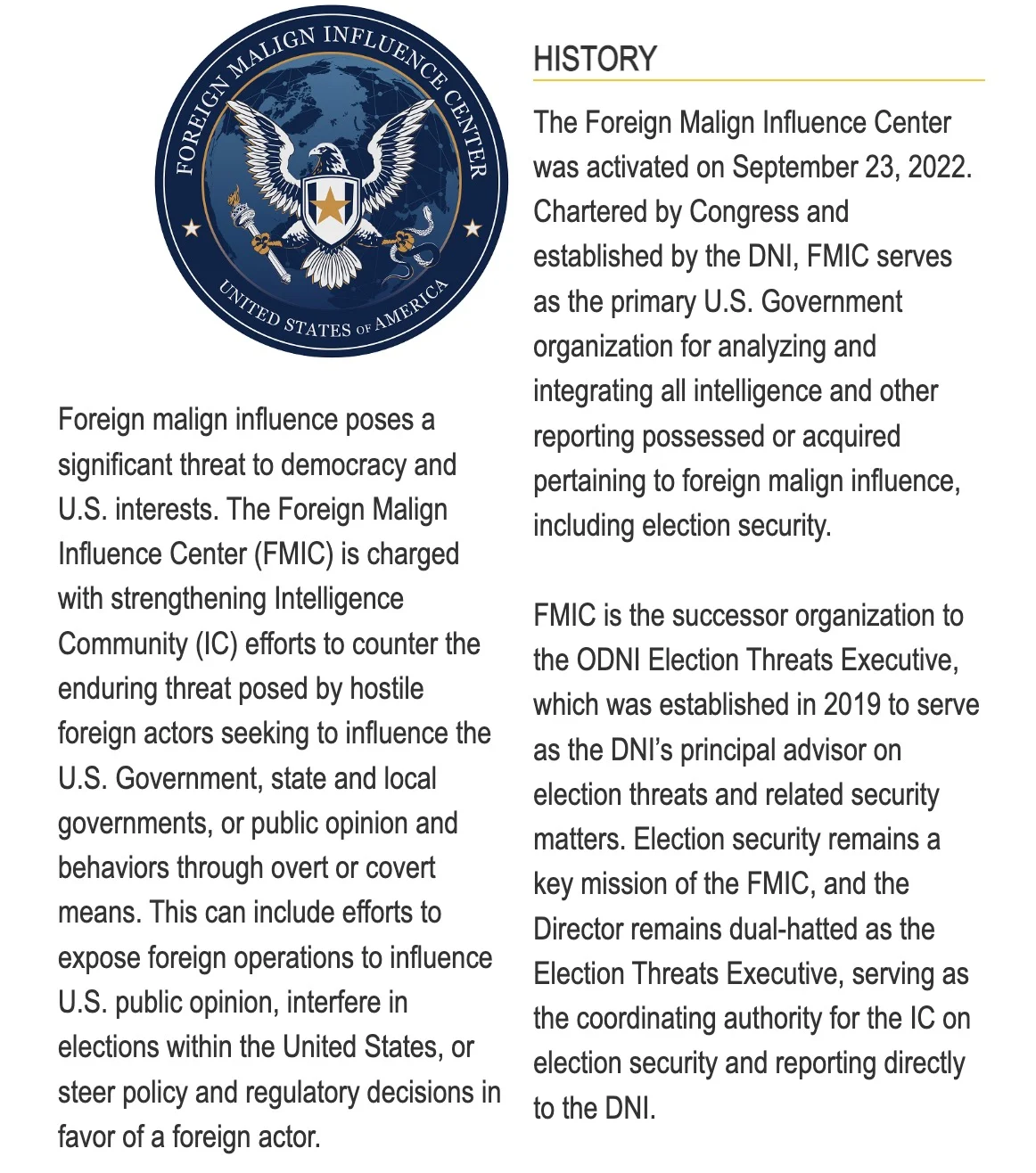 However, the "soothing" mention of foreign threats is not the only thing the FMIC will be dealing with – there's also "protection of US public opinion." And this, opponents may suspect, might be a euphemism for "policing domestic narratives."
The existence of the Center seems to have been presented to the public in a rather low-key fashion. It was last Thursday that it came up during an address by ODNI chief Avril Haines, a full 45 minutes into the speech, during a hearing organized by the Senate Armed Services Committee.
Matt Taibbi, who pored over Twitter's internal documents to become one of those behind the explosive Twitter Files, doesn't look at this kind of initiative very kindly. In fact, he seems to pretty much consider it a ruse whose real goal is to "slowly adjust aim to domestic targets." But first – what Taibbi calls "the basic rhetorical trick of the censorship age" must "raise a fuss about a foreign threat, using it as a battering ram to get everyone from Congress to the tech companies to submit to increased regulation and surveillance."