« Back to Glossary Index
(born Oct 20, 1964) a dirty American lawyer who launched her political career by having an adulteress affair with SF Mayor, Willie Brown, who was 30 years older than her. Harris is now the junior US Senator from California (since 2017), and was previously the 27th DA of San Francisco from 2004-11 and 32nd AG of CA from 2011-17. She was deep state promoted candidate for the Democratic nomination for US President in the 2020 election and their choice as Biden's VP, not his. The non-partisan GovTrack.us website rated Sen. Kamala Harris (D-CA) the most left-wing member of the Senate in 2019 — further left than communist Sen. Bernie Sanders (I-VT). Like her running mate Joe, she, through her hubby Doug Emhoff, has strong ties with China as he is a well connected attorney at a law firm that consults for several companies owned by the Chinese Communist Party (CCP) and that employs former CCP officials.
As California AG, Harris abused her power repeatedly by (1) imposing onerous requirements on Prime Healthcare Services efforts to purchase another healthcare company in a conspiracy to force them to unionize; (2) conducted a raid on the apartment of David Daleiden, the brave journalist who exposed Planned Parenthood's selling of aborted baby parts; (3) covering up for a pedophile ring giving zero help to the victims; (4) and more…
Extramarital Affair Kickstarts Political Career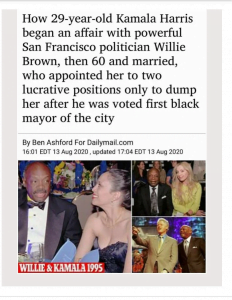 Willie Brown, the corrupt past mayor of San Francisco at 60 years of age had an ongoing affair with Kamala Harris who was 29 and unemployed at the time. Not only did it break up Brown's marriage, it was Hebert Caen who called Harris "the Speakers new steady". This lead to Harris' appointment to numerous high paying government jobs. From there, once a part of the apparatus of the Willie Brown progressive agenda, Harris had a clear path to any position available. Even journalists in California have called Harris "a show horse" and there isn't "much there-there".
A week after Sen. Harris announce that she was running for president, on a weekend when the California Democrat held a big rally in her hometown of Oakland, the former mayor of San Francisco, Willie Brown, confessed that Harris was once his mistress. Brown, 84, also stated that he used his influence to essentially launch her political career. In a weekly column Brown does for the San Francisco Chronicle that was focused on Harris' presidential run, he spoke of an extramarital affair he said he had with Harris.
Almost as an afterthought, in a segment titled "Elephant in the Room," Brown wrote:
I've been peppered with calls from the national media about my "relationship" with Kamala Harris, most of which I have not returned.

Yes, we dated. It was more than 20 years ago. Yes, I may have influenced her career by appointing her to two state commissions when I was Assembly speaker.

And I certainly helped with her first race for district attorney in San Francisco. I have also helped the careers of House Speaker Nancy Pelosi, Gov. Gavin Newsom, Sen. Dianne Feinstein and a host of other politicians.

The difference is that Harris is the only one who, after I helped her, sent word that I would be indicted if I "so much as jaywalked" while she was D.A.
Harris was found to be guilty, by the city of San Francisco's Ethics Commission, of violating campaign spending limit of $211,000 by spending more than four times more than any candidate had spent in the history of running for the office – $625,000, and defeated Halihan. The DA that was helping Joey Piscitelli bring the Catholic that covered up a pedophile ring that operated.2
Brown, following the affair with Harris, rewarded her with two lucrative appointments, earning her over $400,000 in a five year period, according to the online news source, which cited the SF Weekly. The positions were on the Unemployment Insurance Appeals Board and the California Medical Assistance Commission. Harris also received a BMW as a gift from her then-lover, The Free Beacon noted.1
Brown, 84, pointed out that he also helped the careers of other prominent California Democrats, such as U.S. House Speaker Nancy Pelosi, Gov. Gavin Newsom and U.S. Sen. Dianne Feinstein. "The difference is that Harris is the only one who, after I helped her, sent word that I would be indicted if I 'so much as jaywalked' while she was D.A.," Brown wrote. "That's politics for ya."2
Dirty Lawyer and Attorney General
There are some people that get into politics because they truly want to serve the American people, and there are others that get into politics for the fame and the power. Tom Del Beccaro actually ran against Kamala Harris in California, and he assures us that she is squarely in the latter category…
For Harris, politics is a game of ambition not something of substance.

She is not a policy person. Her convictions aren't with respect to the issues; they are with respect to power and the limelight.
And once she gets her hands on power, she is not afraid to abuse it.
In sharp contrast to the kid-glove treatment of corporations and the rich, Kamala Harris was harsh and unrelenting toward rank-and-file people accused of crimes even when there was clearly false testimony and evidence tampering used to convict. The story is a long one, studied and recounted in depth by San Francisco School of Law Professor Lara Bazelon and published January 17, 2019 in The New York Times. Bazelon concluded that Kamala Harris was not a "progressive prosecutor," writing that "time after time, when progressives urged her to embrace criminal justice reforms as a district attorney and then the state's attorney general, Ms. Harris opposed them or remained silent. Most troubling, Ms. Harris fought tooth and nail to uphold wrongful convictions that had been secured through official misconduct that included evidence tampering, false testimony and the suppression of crucial information by prosecutors." Harris even refused to investigate officer-involved shootings when called upon by the California State Legislature and appealed a ruling by a federal judge in Orange County that the death penalty was unconstitutional, bizarrely arguing that the ruling undermined defendant protections!
As Attorney General of California, Harris faced a lawsuit by Prime Healthcare, a national healthcare company in the purchase of a failing healthcare company, The Daughters of Charity Health System. The SEIU which donated to the Harris campaign for Attorney general sought to organize the workers at DCHS which would have been thwarted by the purchase of the company by Prime Healthcare. Harris attempted to expand the five year level of services required to purchase the company to ten years making the purchase "financially unviable". This was the first and only time in the history of the California Attorney General office that these requirements have been forced upon any company.
Harris turned her office as Attorney General into a bastion of unconstitutional government backed to bring the full weight of her office down on her political enemies. In a ruling by Federal District Court Judge Manual Real, Harris was stopped in her abridgment of free speech by demanding that confidential donor lists be given to her office if conservative entities like the American for Prosperity Foundation. In a blatantly political move, Harris actually identified 1,778 confidential donors posted on the Registry website.
In 2013, Harris did not prosecute Steve Mnuchin's bank OneWest despite evidence "suggestive of widespread misconduct" according to a leaked memo from the Department of Justice. In 2017, she said that her office's decision not to prosecute Mnuchin was based on "following the facts and the evidence…like any other case". In 2016, Mnuchin donated $2,000 to her campaign, making her the only 2016 Senate Democratic candidate to get cash from Mnuchin.
And then there's the Planned Parenthood scandal where in 2015, the Center for Medical Progress (CMP) began releasing footage of a 30 month undercover investigation it conducted of Planned Parenthood's harvesting and sale of tissues and organs retrieved from aborted unborn children. Harris abused her office as Attorney General to assist Planned Parenthood, a major political backer and major donor to Kamala Harris's Senate and other campaigns, in a witch hunt against David Daleiden and Sandra Merritt of the Center for Medical Progress. Daleiden gives some of the details:
"… Top-level Planned Parenthood executives were caught callously haggling and negotiating and talking about the way that they can supply tiny aborted baby hearts, and lungs, and livers, and brains, like it was just on an assembly line, and basically treating their patients — whom they claim to care about so much — treating pregnant women like they're just harvesting pods, or a cash crop to pad Planned Parenthood's profit margin and increase their bottom line."


"For decades, Planned Parenthood has been one of the major suppliers of the dismembered body parts of aborted children for various kinds of experimentation — none of it life-saving or contributing to cures, by the way, all of it just basic biological tinkering, some of it very scary Frankenstein-type stuff where they're stitching organs into lab rats and seeing how long they can keep them growing — things like that."

"Planned Parenthood said to Kamala Harris, 'We need you to seize those unreleased tapes, so that they can never be released to the public. Take them away from Daleiden, make sure he doesn't have them." Kamala Harris then "ordered a search warrant to be served on my apartment in Orange County for the unreleased video recordings."

"They came in. They took everything that I had. Fortunately, we have back-up copies in lots of different places, so they were not completely successful, but that search warrant — ordered by Kamala Harris and executed by 11 of her agents in April of 2016 — brings us to where we are today with her successor, Xavier Becerra, prosecuting this completely bogus 15-felony charge complaint against me, all under the California video recording law."

"The California video recording law, by the way, does not make it a crime to record an open conversation in a crowded public area like a restaurant or a hotel lobby, which is what we did, and what regular local journalists in California do every single day and every single week, and publish, and not a single one of them has ever had a search warrant served on them for doing undercover video in the state of California. My case is the first and the only one."

Kamala Harris is the greatest threat to civil rights [and] our constitutional natural rights … that we've seen in our country in generations…"
A California court dropped 14 of 15 charges as legally insufficient. Even the Los Angeles Times stated that "Never in the history of California has anyone been charged with a crime for an undercover investigation".
Believing that human trafficking is worsened by the internet's anonymity, the sponsors of California's Proposition 35 thought they had a simple solution to combating the problem: require convicted traffickers to register as sex offenders. Then require all individuals on California's sex offender registry to disclose their online identities and service providers. The measure passed in the November 2012 election with 81 percent voter approval, but after a corrupt and rogue Ninth Circuit Court judge blocked the new law, Harris, the state's attorney general, decided not to petition the Supreme Court to examine the ruling that block the voter-approved, common sense law.3 With her advocating for open borders and playing the race card for anyone who advocates for controlling the borders where trafficking of women and children are rampant, gives one the impression that she aiding or covering for sex traffickers. There's more…
Pedophile Ring Cover Up
In the 1970s, Joey Piscitelli, was repeatedly raped by the principal of his Catholic High School, Father Stephen Whelan. Others were also abused at the school, but the church covered it up and protected the pedophile priest. In 2004, Piscitelli was pursuing a civil case against the church that oversaw his high school and seeking help to strengthen his case.4
Piscitelli had previously gone to the District Attorney's office, when Terrance Hallinan was the D.A., and was receiving the assistance he requested. Hallinan's office provided Piscitelli with access to files it had obtained in 2002 after Hallinan directed investigators to try to build a case against the archdiocese and forced the archdiocese to turn over 75 years of its own records. The files implicated high-level church officials and how they internally handled pedophile priests. The files had been successfully used to indict a priest –– Father Austin Peter Keegan.
Piscitelli intended to use the files in a similar manner, seeking to find any information that could be helpful in his civil suit against the church that oversaw his high school. At the time, a civil trial was the only avenue for restitution available to victims following a Supreme Court decision which overturned a California law that retroactively eliminated the statute of limitations for criminal prosecution of child molestation cases. Many sexual abusers, who were facing criminal charges prior to the ruling, were set free, including Keegan. However, in 2003, California passed a state law that allowed victims to file civil lawsuits against their alleged abusers if they could prove that the employers of the abusers knew of the misconduct and did nothing to stop it. Piscitelli's civil suit was already underway when he contacted Harris, shortly after she defeated Hallinan.
Piscitelli says Harris' office did not respond to his letters or calls, and would not allow him to access the files. In response, Piscitelli and his family and friends began mounting posters across the city to force Harris to respond. He sought help from the media, which requested access to the files under California's Public Records Act, but Harris' deputy, Paul Henderson, denied the request, stating that Harris' investigative files "were not subject to California's government transparency laws." In 2005, when San Francisco Weekly writer, Ron Russell, attempted the request again, a Harris spokesperson told him:
"If we did it [granted access to files] for you, we would have to do it for everybody. Where do you stop, and where do you start?"
Repeated attempts by reporters to access the files were similarly denied over the years, with Harris' spokesperson, Erica Derryck, not responding to calls or emails from reporters. Eventually, in 2010, Harris' office released a statement:
"District Attorney Harris focuses her efforts on putting child molesters in prison. We're not interested in selling out our victims to look good in the paper. When this case was brought under Terence Hallinan, prosecutors took the utmost care to protect the identity and dignity of the victims. That was the right thing to do then and it's the right thing to do now."
Critics charged that the statement was "dangerous," as not exposing predators could endanger more children. They argued that releasing such records was not only "routine," but also cruel, in that it further burdened victims with having to resort to costly litigation if they wanted to obtain records that documented the crimes that happened against them. Critics also charged that the statement implied that the District Attorney's office was incapable of simply redacting victims' names from the released material. They speculated that Harris, considering her political future, gave deference to the Catholic Church, noted to be a major political influencer in San Francisco.
Author Peter Schweizer requested the same documents in 2019, through an attorney in California. "The San Francisco district attorney's office responded they no longer had them in their possession," he noted. "Were they destroyed? Were they moved somewhere else?" Schweizer asked. "It remains a disturbing mystery."1
In 2006, Piscitelli won his civil case, doing so without the help of Harris's office.
Survivors of clergy abuse and their attorneys say that Harris' record on fighting sex abuse within the Catholic Church is relevant as the U.S. senator from California campaigns for the presidency as a tough-on-crime ex-prosecutor who got her start prosecuting child sexual abuse cases. They complain that Harris was consistently silent on the Catholic Church's abuse scandal — first as district attorney in San Francisco and later as California's attorney general. During her seven years as District Attorney, Harris did not bring charges, or proactively assist in civil cases, against any sexual abusers in the church. Harris claims a campaign promise to make the sexual abuse of children her top issue.
Marijuana loans
While Harris effectively jailed nearly 2,000 people for marijuana-related offenses as her time as a prosecutor and California's attorney general — despite joking about smoking weed herself — she released a sweeping criminal justice reform plan last year, which promised to facilitate government loans for "socially and economically disadvantaged individuals" in the marijuana industry.
At the time, Harris explained that she would help end the War on Drugs via the Marijuana Opportunity Reinvestment and Expungement Act, "which according to her website 'legalizes marijuana at the federal level by removing the substance from the Controlled Substances Act,'" as Breitbart News reported. Additionally, it teased loans to "assist small businesses in the marijuana industry that are owned and controlled by socially and economically disadvantaged individuals."1
Prosecuting Parents for Kids who play Hooky
As San Francisco's district attorney, she spearheaded a controversial law that resulted in some parents being jailed, but only as an "unintended consequence" of the law. The law, however, specifically included a section that allowed prosecutors to fine and/or jail a parent "who has failed to supervise and encourage the pupil's school attendance," according to FactCheck.org. The law, signed by Gov. Arnold Schwarzenegger in 2010, meant that negligent parents could face up to a year in jail and a $2,000 fine. In an interview with CNN, Harris claimed her truancy initiative improved school attendance and that "not one parent was sent to jail." Twenty parents in San Francisco were prosecuted for truancy in 2008 under Harris's direction, according to the Los Angeles Times.
None of these parents were put in jail, but a later bill she sponsored—SB 1317—did result in some parents being jailed.
"People were thrown into jail under that law," CNN host Jake Tapper said to Harris.

"Not by me," Harris replied.

"Not by you, but you supported that law," Tapper continued.

"I supported the law," she said, "and if I could do it over again, I would have made sure that it would not have increased penalties or the ability anywhere in the state to prosecute parents, because that was never the intention. And it was never anything that I did."
This isn't the first time Harris has lied about her truancy program. Last month, The Washington Post assigned Harris "Two Pinocchios" for failing to include context when talking about her role in regards to the truancy law.
"When she is asked about her anti-truancy initiative these days, Harris carefully frames her answers in terms of what happened in San Francisco when she was district attorney," The Post wrote in its "Fact Checker" blog.
"No parents were jailed there, so her responses cannot be faulted for being inaccurate," it said. "But they can be faulted for lacking context. Harris went on to become the attorney general of California. She championed a law that other district attorneys outside San Francisco used to jail at least a handful of parents." (source)
The real reasons for truancy – poverty, drug use, survival issues for parents, lack of community support – were ignored in this law which disproportionately affected low-income people of color.
Fails to Prosecute Mnuchin on Financial Crimes
She let Trump's Treasury Secretary Steven Mnuchin off the hook following the financial crisis. As David Dayen wrote in his hugely important piece published in 2016.
Onewest Bank, which Donald Trump's nominee for treasury secretary, Steven Mnuchin, ran from 2009 to 2015, repeatedly broke California's foreclosure laws during that period, according to a previously undisclosed 2013 memo from top prosecutors in the state attorney general's office.

The memo obtained by The Intercept alleges that OneWest rushed delinquent homeowners out of their homes by violating notice and waiting period statutes, illegally backdated key documents, and effectively gamed foreclosure auctions.

In the memo, the leaders of the state attorney general's Consumer Law Section said they had "uncovered evidence suggestive of widespread misconduct" in a yearlong investigation. In a detailed 22-page request, they identified over a thousand legal violations in the small subsection of OneWest loans they were able to examine, and they recommended that Attorney General Kamala Harris file a civil enforcement action against the Pasadena-based bank. They even wrote up a sample legal complaint, seeking injunctive relief and millions of dollars in penalties.

But Harris's office, without any explanation, declined to prosecute the case.
That's not all. Harris was also coincidentally the only Democrat Steven Mnuchin donated to in 2016. As The Sacramento Bee reported:
Donald Trump, promising to drain the swamp, picked former Goldman Sachs executive and Hollywood financier Steven Mnuchin to be his Treasury secretary, fitting because Mnuchin helped fatten Trump's campaign treasury as his campaign finance chairman. Mnuchin donated $592,600 to Republicans in 2016, including $430,000 to Trump, Federal Election Commission records show. A onetime Hillary Clinton donor, Mnuchin gave one donation this year to a Democrat, $2,000 to help elect Attorney General Kamala Harris to the U.S. Senate.
Thanks for keeping me out of prison Kamala!
– xoxo, Steven Mnuchin.
In August 2019 antiwar renegade Democrat Rep. Tulsi Gabbard BLASTED Senator Kamala Harris on her controversial record as California Attorney General.
Tulsi takes down Kamala Harris over her record on criminal justice reform, the death penalty, and the war on drugs -TULSI2020 #DemDebate #Tulsi2020 https://t.co/7XQoiqHThu pic.twitter.com/epf58iQNYI

— Tulsi Gabbard 🌺 (@TulsiGabbard) August 1, 2019
House Republican leader Kevin McCarthy (R-CA) said Harris, as California attorney general, "used her office's prosecutorial powers for political purposes. She led assaults against conservative non-profits, energy companies, and parents, but not violent gang members or criminal illegal aliens. Now, she wants to turn America into San Francisco."
Failure to Prosecute MS-13 Gang Members, Illegal Aliens
Here is one instance, as reported by Breitbart, of how Kamala Harris' choice to not prosecute illegal aliens turned out:
On June 22, 2008, 48-year-old Tony Bologna and his three sons — 20-year-old Michael, 18-year-old Andrew, and 16-year-old Matthew — were driving home from a family barbeque in San Francisco, California, when illegal alien MS-13 gang member Edwin Ramos, driving alongside them, randomly opened fire. Ramos killed Anthony, Michael, and Matthew in the shooting. Prosecutors said Ramos shot the Bolognas because he misidentified them as rival gang members who were involved in a gang murder that day.
Ramos, three months before the Bologna murders, had a run-in with San Francisco police officers. According to the San Francisco Gate, police had warned Harris' office that Ramos was a known MS-13 Gang member with multiple run-ins with the law.
Despite his record, Harris' office did not prosecute Ramos, the San Francisco Gate reported in 2008:
In March, three months before the killings, Ramos was arrested in San Francisco after police pulled him over because his car had illegally tinted windows and no front license plate. An alleged gang member in the car tried to discard a gun, but police recovered it and later concluded that it had been used in a double killing, authorities said. [Emphasis added]

The police report of the incident cited "numerous documented contacts" that officers had with Ramos and the man who allegedly discarded the gun, and said both were active members of the Mara Salvatrucha (MS-13) street gang. [Emphasis added]

San Francisco prosecutors, however, declined to file charges against Ramos, saying they couldn't prove that he knew his companion had the gun. [Emphasis added]
An account of Ramos' arrest in March 2008 was published in the Los Angeles Times in July 2008. The report notes that after Harris' office failed to press any charges against Ramos, he was released a couple of days later:
Ramos was also arrested March 30 on a weapons violation, along with an alleged gang member riding in his car. After he spent several days in jail, authorities decided to file charges against the other man but not him, and Ramos was released, said Eileen Hirst, a sheriff's spokeswoman. [Emphasis added]

Deportation proceedings against Ramos could have been initiated but were not because of an apparent mix-up between the federal Immigration, Customs and Enforcement Agency and the San Francisco Sheriff's Department, which runs the jail. [Emphasis added] […]

But ICE spokesman Tim Counts said the jail contacted federal immigration officials only once — at 3:44 a.m. April 2, two hours after Ramos had been released. [Emphasis added]
After the Bologna murders, Angel Mom Danielle Bologna pleaded with Harris to seek the death penalty against Ramos. Harris refused and instead sought a life sentence without parole. Ramos was convicted in 2012 for the Bologna murders and appealed his conviction. A California appellate court upheld his conviction in 2014. Harris supports a national sanctuary policy that would shield arrested illegal aliens from being turned over to the Immigration and Customs Enforcement (ICE) agency for deportation proceedings.
Kavanaugh Hearings
Harris was among one of the most vocal senators during the Democrats' effort to take down now-Supreme Court Justice Brett Kavanaugh, as Breitbart News extensively detailed. Despite the gross discrepancies in Christine Blasey Ford's testimony and Kavanaugh's vehement denial, Harris concluded, based on her unsubstantiated attacks, that he "lied to the U.S. Senate and most importantly to the American people" and called for his impeachment. Stunningly, Harris tried to used her crusade against Kavanaugh as a personal highlight during her presidential campaign, bragging that she has "taken on Jeff Sessions, Bill Barr, [and] Brett Kavanaugh".1 She berated Kavanaugh and treated him as guilty of rape until he could prove himself innocent, all because the left feared they might lose their right to kill babies.
She did not mention that she lost all three battles, as all were ultimately confirmed. President Donald Trump reminded the public on Tuesday that Harris was "extraordinarily nasty to Kavanaugh. She was nasty to a level that was just a horrible thing the way she was, the way she treated now-Justice Kavanaugh, and I won't forget that soon."
The California senator vehemently supported what has since been dubbed as the Democrats' impeachment witch hunt against President Trump. Throughout the process, Harris repeatedly referred to Trump as a "criminal" and "unpatriotic," and said he "President Trump needs to be impeached." Breitbart shows several tweets in point #4 HERE.
Anti-Christian
In January 2018, Harris and Mazie Hirono attacked Judge Brian Buescher for his membership into the Knights of Columbus. The Knights of Columbus is an esteemed Catholic men's group founded in 1882 and dedicated to charitable work. Ashley McGuire, senior fellow with The Catholic Association, said Harris "has built a career out of opposing the work and values of Catholics, harshly prosecuting a whistleblower for exposing Planned Parenthood's criminal sale of aborted baby body parts and supporting efforts to force the Little Sisters of the Poor to violate their beliefs and provide employees with abortion pills, for example."
Ties to Jussie Smollet's "Attempted Modern Day Lynching" Hoax
In September 2019 TGP reported on ties between Jussie Smollett and US Senators Kamala Harris and Cory Booker, noting these connections:
Jussie Smollett held a number of conversations with Cory Booker and Kamala Harris about supporting their sponsored Justice for Victims of Lynching Act and providing the needed public momentum for the bill to pass the Senate and House.

The timeline of these conversations (December 21-January 18, 2019) suggests that the death threat letter he sent himself (January 22-23) and his staged attack (January 29), were timed to create an opinion groundswell to support the bill and prop the political and professional career of the three masterminds.

It is noteworthy that both, Harris and Booker released separate statements condemning Smollet's attack using the following identical language "an attempted modern-day lynching" –

At the time Booker released his statement at 12:09 PM and Harris hers at 1:30 PM they could not have possibly known what the motive for the attack was because the police were only a few hours into the investigation.

TGP also pointed out that, "All material evidence suggest that parts of the event were influenced by Booker and Harris", as well as Smollett's friendship with the Obama's.
Presidential Run
On January 21, 2019, Harris officially announced her candidacy for President of the United States in the 2020 United States presidential election. Marc Elias, who heads Perkins Coie's political law group, became general counsel for Harris' presidential bid. Elias, who held the same position in Hillary Clinton's campaign, is named in two pending Federal Election Commission complaints and in a recent federal lawsuit alleging that the Clinton campaign broke campaign finance laws when it used Perkins Coie to hire Fusion GPS, the company that used Christopher Steele to make up the phony dossier that began the Russian collusion coup. Birds of a feather flock together!
Harris received an endorsement from Maxine Waters, the chief proponent in the impeachment push of President Trump. Maxine Waters runs a "pay for Play" where money is funneled to Waters in order to get her endorsement on her mailers, which she pays her daughter to accomplish for $650,000. Kamala Harris had paid tens of thousands of dollars to be listed on the Waters fliers of endorsements. Latest counts have shown the somewhere around $65,000 has been paid by Harris to the Waters campaign funds according to the Federal Election Commission.
Kamala Harris's earlier campaigns and cross-endorsements (candidates agree to endorse each other) allowed her to build up the key staff needed for a presidential campaign. Here members of her family became central, together with a reliance on an informal alliance with Hillary Clinton. Clinton and Harris endorsed each other in 2016, Harris was an enthusiastic supporter of Clinton and has recruited a number of Hillary Clinton's staff for her own campaign. These two themes come together in the person of Harris's sister and presidential campaign chair Maya Harris. Maya Harris, formally an official with the Ford Foundation, is currently a commentator for the MSNBC, one of the three key cable news outlets (with Fox and CNN) covering the presidential campaign. Positive news coverage for media favored candidates is a key feature of presidential campaigns in the U.S., and having a connection to possibly receive this kind of advantage is central to a successful campaign. Maya Harris also has other important ties to key political networks. In 2015 Hillary Clinton appointed her to lead a small team of policy advisers to develop the agenda for Clinton's 2016 campaign. Then she became a senior policy adviser for Clinton in 2016. Maya Harris also brings to the table membership in the Council on Foreign Relations, "Wall Street's Think Tank" with the numerous connections and favorable treatment that membership in this 5000-plus member capitalist class think tank brings. The Council (CFR) is the world's most powerful private organization, the ultimate networking, socializing, strategic planning, and consensus-forming institution of the dominant U.S. plutocratic billionaire class, the think tank of monopoly-finance capital. Its connections extend deeply into key American corporations, leading media, top universities, powerful non-profits, foundations, other think tanks and international organizations, as well as meetings groups like the Bilderberg group, Trilateral Commission, and Davos (see Laurence H. Shoup, Wall Street's Think Tank: The Council on Foreign Relations and the Empire of Neoliberal Geopolitics 1976-2019, Monthly Review Press).
Just to cite one concrete example of corporate and CFR connections, Maya's employer, MSNBC, was founded in 1996 as a partnership of General Electric's NBC unit and Microsoft. Microsoft has since divested its interest, leaving GE/NBC in charge. GE has many CFR connections and Council members in leading roles in MSNBC include Brian Williams, Mica Brzezinski, Joe Scarborough, and Andrea Mitchell (who is also Council member Alan Greenspan's wife). The CFR's broad network also includes key print media, resulting in favorable coverage for some candidates. For example, the Financial Times (FT), a "world business newspaper" has a special relationship with the Council, the FT often has CFR leaders, staff, and active members writing opinion pieces for it, and the Council often invites key FT staff to speak at one of their two headquarters. The FT had a long favorable article on Kamala in their weekend edition June 22-23, 2019 ending by quoting a political strategist who concluded that Kamala "obviously has great political talent" (Financial Times June 22/23, 2019 Life and Arts: 18-19). Another FT opinion writer stated that if you are looking for someone "…who could beat Donald Trump next year, the answer without a shadow of a doubt is Californian Senator Kamala Harris" (Financial Times June 29/30, 2019:9). Having a CFR member as her sister and campaign chair means that a Kamala Harris administration would very likely bring many Council on Foreign Relations members into government and into leading roles in the policy formation process. Having the FT on your side means that wealthy campaign donors and other media outlets will take you seriously.
Kamala's family's corporate ruling class connections do not end with her sister, because Maya's husband is Tony West, a leading corporate lawyer whose father was an IBM executive. West is politically close to Kamala, he co-chaired her 2016 Senate campaign, and recently stated that he is with her 100% (San Francisco Chronicle July 14, 2019). West was chief counsel for Pepsi Cola, a giant multinational corporation prior to taking his current job. He is now the highly paid chief counsel for Uber. Uber's business model relies on maintaining that their working class drivers are not employees and so not subject to regulations on wages and benefits. This means that West is a central figure defending the interests of the company's owners against the claims of their exploited drivers. Many Uber drivers want the status of employees so they can gain minimum wages, paid holidays, healthcare and other benefits. Australia's workplace regulator ruled that Uber drivers are not employees, but a U.K. court ruled they are. Uber's legal team, led by Tony West as chief counsel, has now appealed this ruling to the U.K. Supreme Court.
Kamala Harris's other staff members represent a combination of people connected to the Bay Area Democratic Party political machine, former Barack Obama operatives, and former Hillary Clinton staff members. The connection with Clinton appears especially close. Besides Maya Harris at least four other top staff members for Kamala played similar roles in Clinton's 2016 campaign. General counsel Mark Elias was general counsel for Clinton in 2016; communications director Lily Adams was Iowa communications director for Clinton in 2016; media consultant Jim Margolis served in the same role for Clinton in 2016; and advance director Joyce Kazadi served in an identical role for Hillary in 2016.
The Kamala Harris connection to Hillary Clinton extends to at least on one Hillary's election clients. A firm named Legion AVS worked for Hillary for America. Harris hired this firm to organize her kickoff rally in Oakland. Legion AVS was reportedly paid $485,000 to organize this one, evidently lavish event. The Oakland Police Department was also paid $187,000, and there were other expenses. So this one event cost the Harris campaign in excess of $672,000, quite a sum for an event of this kind.
Harris, who once bragged about her status as a "top tier candidate," resorted to desperate measures after her steady collapse in the polls. She embraced a number of unconventional and cringey methods in efforts to garner support.
In July 2020, the Wikipedia page for Kamala Harris was edited to censor and delete anything that could potentially be used against her.
Breitbart reports:
Wikipedia Editors Sanitize the Page of Potential Biden VP Kamala Harris

An article in the Intercept last week reported that a Wikipedia editor was scrubbing the page of former Democratic Presidential candidate Sen. Kamala Harris (D-CA), considered a prominent member of the shortlist to be Joe Biden's Vice Presidential pick. The piece mentioned changes such as removing a past campaign finance scandal and Harris' record as a hard-line prosecutor.

Changes not mentioned include removals of the alleged role nepotism played in her early political career and significant favorable additions about Harris.

Other Wikipedia editors have begun working to undo the changes made to the Harris page, although many details remain missing. On Twitter, the Wikipedia editor responsible for most removals was identified as Bao Nguyen, a former volunteer organizer for the Harris campaign.

Similarly, editors previously created pages for fellow Presidential candidates Pete Buttigieg and Andrew Yang without disclosing their connections to them.

The Intercept article by Aida Chavez notes that in 2016, editors had been heavily involved in contributing to the article on Tim Kaine prior to him being announced as Hillary Clinton's Vice
In addition to Wikipedia's censorship, Tammy Bruce wrote at the Washington Times:
Democratic Party sets rules for criticizing Biden's VP pick Kamala Harris

Media organizations have just been warned by the Democratic Party machine that they better be very, very careful with how they cover Joe Biden's vice presidential choice — just revealed to be Kamala Harris.

Any criticism of the expected woman will be considered racist and sexist, we are told. Oh, they wrap up that threat in a word salad, but that's the bottom line: There should be second and even third thoughts about any criticism of Mr. Biden's VP pick.

An actual memo went out from an ad hoc group of Democratic operatives (pretending to be advocates for women) to media organizations with orders on how to proceed with their coverage. The fact that they expected this partisan missive to be accepted and adhered to by media entities tells you all you need to know about the problem with today's legacy media…

Hiding Mr. Biden in a basement has been absurdly accepted by the media. Unable to toss Ms. Harris into a literal basement, they're now trying to construct a virtual bunker for her.
John Daniel Davidson responded at The Federalist, pointing out the liberal leftist medias treatment of VP pick Sarah Palin.
Hollywood stars also joined forces with the Time's Up movement for the "We Have Kamala Harris's Back" campaign — an attempt to pressure media outlets into protecting the vice presidential candidate from "sexist and racist" political attacks. Washed up stars including Alyssa Milano, Reese Witherspoon, Julianne Moore, Kerry Washington, Debra Messing, Amy Schumer, Rosanna Arquette, and Sarah Paulson are using the hashtag #WeHaveHerBack to spread the message.
Continued on next page…