« Back to Glossary Index
(Nov 11, 1904 – Nov 15, 1996) was a high-ranking U.S. State Department official and Secretary-General of the United Nations founding conference. He was convicted of perjury in 1950 after denying involvement in Soviet espionage. Hiss partisans and many on the ideological left for many years hotly disputed the jury's verdict in the case, putting forward a variety of conspiracy theories. The overwhelming consensus among historians today is that Hiss was guilty, as confirmed by the unanimous report of the bipartisan Moynihan Commission on Government Secrecy in 1997. (Conservapedia)
Alger Hiss was convicted of perjury for denying that he had been a Soviet spy, but his case continues to fascinate and stir controversy. … enough material has been found in other files–in Moscow, Eastern Europe, and Washington–to enable historians to write several new works that leave almost no room for doubt about Hiss's guilt. …
…
On the surface, Hiss was an unlikely Communist. Born in 1904, he graduated from Johns Hopkins and Harvard Law School and served as a clerk to Supreme Court Justice Oliver Wendell Holmes. Hiss then practiced law in Boston and New York but returned to Washington following the election of Franklin Roosevelt to work in the New Deal. Hiss held a variety of positions and finally settled at the State Department in 1936 as an aide to Assistant Secretary of State Francis B. Sayre, who was former President Woodrow Wilson's son-in-law.
…
Hiss rose steadily at State. During the war, he was heavily involved in postwar planning and laying the foundations for the UN. In early 1945, he was part of the State Department contingent that traveled to Yalta with President Roosevelt, and that spring he served as Secretary General of the UN organizing conference in San Francisco. Soon after, however, on the basis of Chambers's and Bentley's information, the FBI and State Department security began investigating Hiss; although he was not proven to be a Communist or a spy, enough concerns were raised that Hiss was forced to resign from State in December 1946. Hiss's public reputation remained strong, however, and, with the help of John Foster Dulles, he was appointed head of the Carnegie Endowment for International Peace, beginning 1 February 1947.
Hiss flatly denied Chambers's HUAC charges. The Committee–spurred by a freshman Representative from California, Richard M. Nixon–frantically checked the two stories. On 17 August 1948, Nixon brought Hiss and Chambers together, and Hiss admitted knowing Chambers slightly during the 1930s, but under the name George Crosley. Hiss still denied ever being a Communist, and challenged Chambers to repeat the charges in public, without the immunity afforded by testimony. Chambers did so on the radio show Meet the Press , on 27 September; Hiss filed a slander suit.
The Pumpkin Papers
A dramatic sequence of events followed. On 4 November 1948, as he gave a deposition for the suit, Chambers changed his story and claimed that Hiss not only had been a Communist but also a Soviet spy. For the first time, Chambers produced physical evidence to back up his charge. Before deserting the Soviet cause, he had hidden microfilms, typewritten copies of State Department documents, and notes in Hiss's handwriting that summarized other State documents in an unused dumbwaiter in his wife's nephew's apartment in Brooklyn. On 14 November, Chambers retrieved the package, and two days later he handed the papers to his attorneys (he held onto the microfilms until December, hiding them in a pumpkin at his farm in Maryland; ever since, the entire collection has been known as the Pumpkin Papers). The papers, notes, and microfilms dated from December 1937 through February 1938; Chambers claimed that they were samples of the materials Hiss had provided for passage to the Soviets and that Hiss's wife, Priscilla, had been the typist.
The papers and microfilms soon were authenticated, and Hiss was indicted for perjury–the statute of limitations for espionage during the 1930s having long expired–on 15 December. The formal charge, based on the Pumpkin Papers, was that he had lied when he told the grand jury that he neither seen Chambers nor passed documents to him in February and March 1938.
…
· Also in 1992, a Hungarian historian, Maria Schmidt, found the original transcripts of Noel Field's interrogation by the Hungarian secret police in 1954. Schmidt confirmed Karel Kaplan's original description of Field's statements, which corroborated Massing's testimony by describing how Hiss had tried to recruit him for his own spy ring.
In October 1996, the CIA and NSA released the Venona files, copies of decrypted Soviet intelligence cables from the 1930s and 1940s. The most famous of the cables, dated 30 March 1945, describes ALES, the covername for an American agent who had been working for Soviet military intelligence since 1935, attended the Yalta conference, and then gone on to Moscow where Soviet Foreign Minister Vyshinsky thanked him for his work. Of the Americans at Yalta who then went to Moscow with Secretary of State Stettinius, only Hiss fits this profile.
In return for payments from Random House, Allen Weinstein and Alexander Vassiliev, a former KGB officer turned journalist, were granted access to Stalin-era files from the KGB and its predecessors during 1994-96. Among the files they found documents confirming Hede Massing's account of Hiss's attempt to recruit Noel Field and several references to ALES, including one that described him as a "strong, determined man with a firm and resolute character, who is aware that he is a Communist with all the consequences of illegal status."
---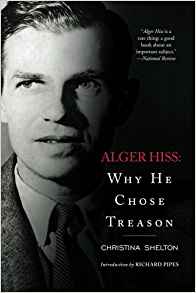 Former U.S. State Department official Alger Hiss was the darling of the Franklin Roosevelt Democrats and the architect of the United Nations. That he was also a Soviet spy remains one of the most well-guarded secrets of the 20th century. But a new book, "Alger Hiss: Why He Chose Treason," shatters the veil of secrecy so well maintained by "progressives" in the Democratic Party and a complicit media establishment.
It all began unraveling in 1948, when Hiss was accused of being a Soviet spy. Because the statute of limitations on espionage had run out, he was convicted only of perjury. Decades later – after the Hiss trial had been long forgotten by most – archival evidence surfaced confirming the accusations: a public servant with access to classified documents had indeed passed crucial information to the Soviets for more than a decade.
Yet many on the American Left still consider Hiss an iconic figure – an innocent victim accused of unsubstantiated crimes. They prefer to focus on the collectivist ideals Hiss stood for, rather than confront the reality of a man who systematically and methodically betrayed his country.
Former U.S. Intelligence analyst Christina Shelton employs an in-depth knowledge of Soviet intelligence affairs as well as recently released Hungarian and KGB archival material to shine a fresh light on one of the most famous espionage cases. The story is dramatic, but Shelton's analysis goes beyond sensationalism as she explores both the ideological motivation behind Hiss's behavior and the lasting influence it has had on U.S. foreign policy.
Why exactly were the intellectual elite so determined that Hiss was innocent? His accuser, Time magazine senior editor Whittaker Chambers – originally Hiss's Soviet handler and author of the classic "Witness" – presented compelling written evidence. However, the intelligentsia were intent on supporting one of their own. They ignored the facts, a willful blindness that helped contribute to a polarization still in place in our country today.
Thirty years of intelligence analysis gives Shelton the expertise to approach the story from many different angles, especially:
How Hiss's central role at the Yalta Conference and the founding of the United Nations are examples of the significance of Soviet intelligence recruitment of high-level Americans who could influence U.S. foreign policy in their favor.
Why the silence surrounding the implications of Hiss's espionage continues—and why apologists fear that smearing his name would undercut New Deal policies and the United Nations. Shelton doesn't just detail the body of evidence pointing to Hiss's guilt; she suggests new layers of meaning in light of the current political landscape.
Today, the importance of understanding Hiss's ideological commitment has never been more vital. His advocacy of collectivism and internationalism still resonate among the political elite, making this book an important and timely analysis of American thought at this critical juncture in our country's life.
Chronological History of Events Involving Alger Hiss