« Back to Glossary Index
Today the term propaganda is associated with information that is manipulative, biased, or misleading in nature, but propaganda historically was a neutral descriptive term. Propaganda is often associated with the psychological mechanisms of influencing and altering the attitude of a population toward a specific cause, position or political agenda in an effort to form a consensus to a standard set of belief patterns. Public service ads encouraging you not to smoke, for example, are a form of propaganda. The problem with propaganda is that it's inherently biased and one-sided, which can become outright dangerous if the other side is censored.
Propaganda is an organized attempt to get large numbers of people to think or do something — or not think or do something. It's not like classical rhetoric, which is about persuasion through argument. It's a kind of sub-rational manipulation. ~ Professor Mark Crispin Miller
Mass media is the most powerful tool used by the ruling class to manipulate the masses. It shapes and molds opinions and attitudes and defines what is normal and acceptable. Mass media include television, movies, radio, newspapers, magazines, books, records, video games and the internet. Many studies have been conducted in the past century to measure the effects of mass media on the population in order to discover the best techniques to influence it. From those studies emerged the science of Communications, which is used in marketing, public relations and politics.
The Luciferian cult that has used every means imaginable to gain power over governments, media, and other powerful organizations and uses propaganda and brainwashing techniques to manipulate our minds and slowly corrupt and desensitize our minds and spirits from subliminal messaging from cartoons to commercials, movies, and printed materials. Sex, drugs, violence, war and many other evils are carefully crafted into the majority of the mass media controlled by this evil cabal.
It is one of the most important aspects of our media system, and yet hardly known to the public: most of the international news coverage in Western media is provided by only three global news agencies based in New York, London and Paris.
The key role played by these agencies means Western media often report on the same topics, even using the same wording. In addition, governments, military and intelligence services use these global news agencies as multipliers to spread their messages around the world.
A study of the Syria war coverage by nine leading European newspapers clearly illustrates these issues: 78% of all articles were based in whole or in part on agency reports, yet 0% on investigative research. Moreover, 82% of all opinion pieces and interviews were in favor of the US and NATO intervention, while propaganda was attributed exclusively to the opposite side.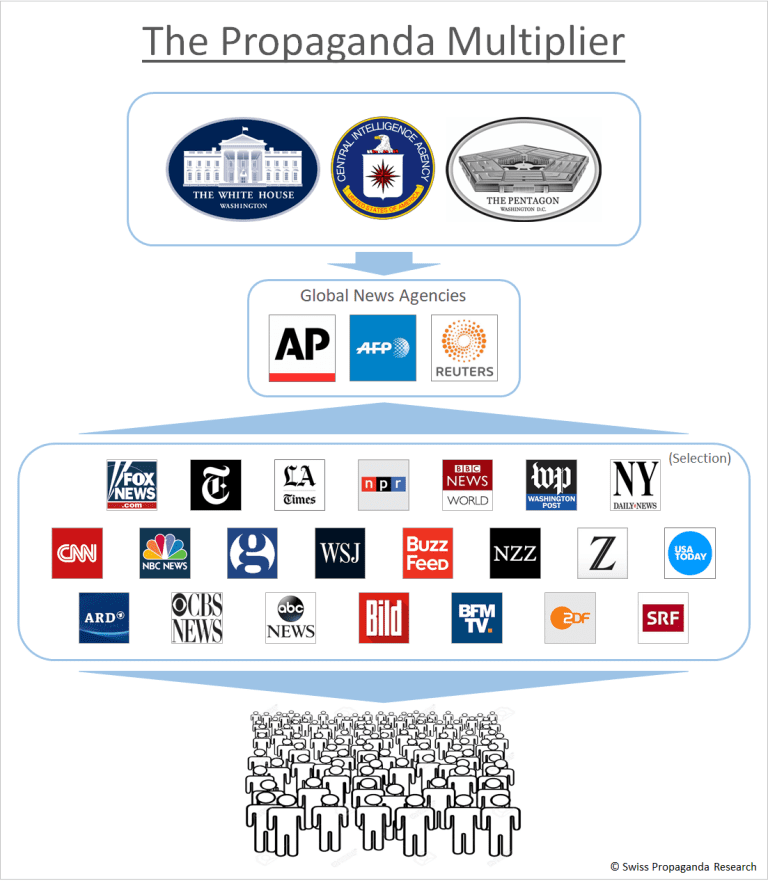 What is known to the US military, would not be foreign to US intelligence services. In a remarkable report by British Channel 4, former CIA officials and a Reuters correspondent spoke candidly about the systematic dissemination of propaganda and misinformation in reporting on geopolitical conflicts:
Former CIA officer and whistleblower John Stockwell said of his work in the Angolan war: "The basic theme was to make it look like an [enemy] aggression. So any kind of story that you could write and get into the media anywhere in the world, that pushed that line, we did. One third of my staff in this task force were propagandists, whose professional career job was to make up stories and finding ways of getting them into the press. () The editors in most Western newspapers are not too skeptical of messages that conform to general views and prejudices. () So we came up with another story, and it was kept going for weeks. () But it was all fiction."
Fred Bridgland looked back on his work as a war correspondent for the Reuters agency: "We based our reports on official communications. It was not until years later that I learned that a little CIA disinformation expert had sat in the US embassy and had composed these communiqués that bore absolutely no relationship at all to truth. () Basically, and to put it very crudely, you can publish any old crap and it will get into the newspaper."
And former CIA analyst David MacMichael described his work in the Contra War in Nicaragua with these words: "They said our intelligence of Nicaragua was so good that we could even register when someone flushed a toilet. But I had the feeling that the stories we were giving to the press came straight out of the toilet." (Hird 1985)
Of course, the intelligence services also have a large number of direct contacts in our media, which can be "leaked" information to if necessary. But without the central role of the global news agencies, the worldwide synchronization of propaganda and disinformation would never be so efficient.
Through this "propaganda multiplier", dubious stories from PR experts working for governments, military and intelligence services reach the general public more or less unchecked and unfiltered. The journalists refer to the news agencies and the news agencies refer to their sources. Although they often attempt to point out uncertainties (and hedge themselves) with terms such as "apparent", "alleged" and the like – by then the rumor has long been spread to the world and its effect has taken place.
In addition, the sources of these media outlets are often not easy to verify ("military circles", "anonymous government officials", "intelligence officials" and the like) and can therefore also be used for the dissemination of propaganda. In any case, the widespread orientation towards the major Anglo-Saxon publications leads to a further convergence in the geopolitical coverage in our media. Read more…
NYU professor Mark Crispin Miller, Ph.D. teaches a course on propaganda is primarily concerned with teaching students to perceive and analyze propaganda in real time, or to look back at very recent propaganda drives. This is not an easy thing to do, he warns his students, since, while it's easy to spot propaganda that you disagree with, it can be very difficult to recognize it as propaganda when it tells you something that you want to hear, and want to think is true.
"That's the most effective propaganda," Miller says. "It works best when you don't see it for what it is. You think it's news. You think it's entertainment. You think it's information. You think it's expertise. So, you will agree with it. Someone else out there is spewing disinformation, but you're getting the real thing.
So, it's hard to study propaganda, because you must make an effort to pull back and be as impartial as possible. Read comprehensively, do all the research you can [on] all sides of that issue. See what the propaganda has blacked out. See what the propaganda has stigmatized as fake, as hoax, as junk science, and look at it objectively.
What's hard is that you have to move out of your comfort zone. Sometimes you discover that a thing you'd fervently believed for years was false, or half true. I've had this experience myself many, many times."
See Also:
Chronological History of Events Involving Propaganda