« Back to Glossary Index
Served as Deputy Attorney General in the Obama Administration throughout the period of time the Obama Department of Justice was accused of abusing the FISA process and constitutional rights of American citizens. Yates served as Acting Attorney General for the first ten days of the Trump administration. One month after Donald Trump announced his intention to seek the presidency in 2015, Yates blocked the Office of Inspector General (OIG) from having oversight of the DOJ National Security Division (DOJ-NSD). The OIG, Michael Horowitz, requested oversight and Yates responded with a lengthy 58-page legal explanation essentially denying the request. All of the DOJ was subject to oversight, except the National Security Division. Horowitz raised concerns that his office would be required to seek the DOJ's permission. That procedure is "inconsistent with the Inspector General Act, impairs the OIG's independence, and fails to account for the over 20 year record of Department and FBI compliance with OIG document requests."1
Yates was referred for criminal investigation by Congress in April 2018 for her role in signing the Carter Page FISA warrant application containing unverified and/or false information from the Clinton-Steele dossier (possible violations of 18 USC 242, 18 USC 1505 and 1515b).1
It was Yates who "flagged" General Flynn's completely innocent call with the Russian ambassador as "highly significant" and "potentially illegal." Investigative journalist, Paul Sperry reported that Sally Yates, with Comey's and McCabe's blessing used Peter Strzok's altered 302 summary report of the interrogation of General Flynn to brief the White House counsel to pressure Flynn's firing.
Trump could not have "obstructed" an investigation that was no longer open, Sperry continued.
In May 2017, Yates went before Congress and lied about General Michael Flynn being compromised by Russia while concealing evidence. A confidential memo written by Trump's lawyers to Mueller also indicate that Yates lied to federal investigators about the Mike Flynn probe. Attorney Nick Short pointed out the former Deputy Attorney General's deceit.
From the report…
On January 24, 2017, Lt. Gen. Flynn was interviewed in the White House by FBI. The FBI operatives believed Flynn provided truthful answers.
On January 26, 2017, Sally Yates met with White House Counsel Dan McGahn and told him Flynn lied.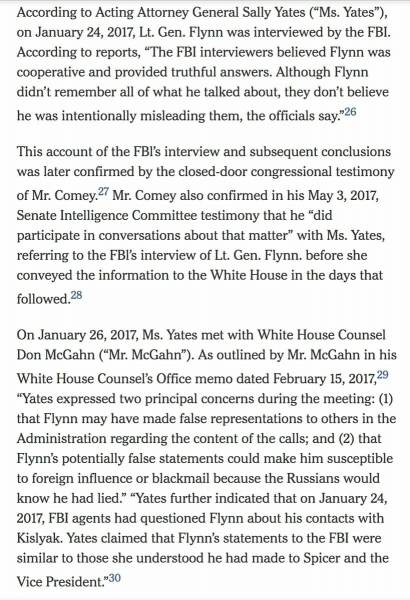 On January 27, 2017, Sally Yates and McGahn had another meeting and Yates lied about the ongoing witch hunt against the Trump team and she threw Michael Flynn, an innocent man, under the bus.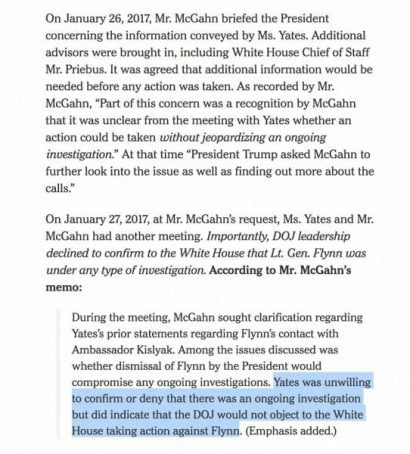 Later the FBI told Michael Flynn he would not be charged and they were closing out his investigation. Then deep state hacks later charged him with lying to federal investigators. Sally Yates would later write a column in the Washington Post on honesty!
Crooked Sally Yates told Congress that the Logan Act was the first reason she intervened in the Flynn case — the reason FBI agents were sent to the White House to interview Flynn in the Trump administration's early days. The Logan Act has not been prosecuted in the United States for over 200 years. She knew this. Michael Flynn was innocent.
Flynn not only reported his trip to Russia before he went, he also took training on how to act and then provided the intelligence community information upon his return on what he learned. All of this information has been kept quiet by the intelligence community which was spying on him and listening to all of his conversations anyway, so they knew they had nothing on him. That's why they set him up… thanks to Sally Yates.
General Flynn was lied to, set up multiple times before and after the Trump inauguration, excessively to the point of illegally unmasked, targeted, ambushed in the White House, falsely accused, threatened with his son being indicted, provided corrupt legal counsel (the same firm where corrupt Obama former AG Eric Holder works), harassed for 3 years, belittled, slandered, besmirched by the judge, harassed by the judge, and the attorneys going after him are the same attorneys who represented the corrupt Sally Yates who lied and told President Trump General Flynn lied.