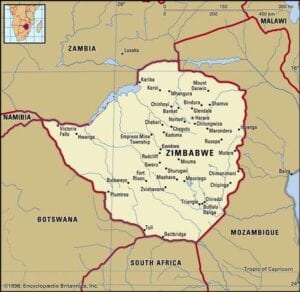 Zimbabwe, officially Republic of Zimbabwe, formerly (1911–64) Southern Rhodesia, (1964–79) Rhodesia, or (1979–80) Zimbabwe Rhodesia, landlocked country of southern Africa. It shares a 125-mile (200-kilometre) border on the south with the Republic of South Africa and is bounded on the southwest and west by Botswana, on the north by Zambia, and on the northeast and east by Mozambique. The capital is Harare (formerly called Salisbury). Zimbabwe achieved majority rule and internationally recognized independence in April 1980 following a long period of colonial rule and a 15-year period of white-dominated minority rule, instituted after the minority regime's so-called Unilateral Declaration of Independence (UDI) in 1965. (Britannica)
Corruption in Zimbabwe has become endemic within its political, private and civil sectors. Zimbabwe ranks joint 154th out of 176 countries in the 2016 Transparency International Corruption Perceptions Index, ranking it alongside Turkmenistan. On a scale of 0 (highly corrupt) to 10 (very clean), the Corruption Perceptions Index marked Zimbabwe 2.2. This marks an increase in corruption since 1999, when the country ranked 4.1.
It starts out like a Jason Bourne movie. There's a plane. A body. And mountains of cash (67 tons of it) on pallets running the length of a cavernous wide-body cargo plane. The MD-11 wide-body cargo jet is enroute from Munich to Durban, South Africa carrying what will later be called a "diplomatic shipment" for the South African Reserve Bank. Initial reports state the plane made ...
Read More
Paul Kagame took power in Rwanda after an alleged "Rwandan
Genocide
." This massacre of almost 1 million Rwandans now appears to have been a C.I.A.-fabricated
eugenics
program that also served as a
false flag
pretext. This pretext provided the cover to seize control of rare earth minerals in the resource-rich neighboring Congo. Those minerals are critical for the manufacturing of computers, military
surveillance
devices, aerospace, defense, ...
Read More