The San Francisco Chronicle reported that city prisons swelled to standing-room-only; police shifts and court sessions were added to help manage the arrests.
"Where is your mask?" Judge Mathew Brady asked offenders at the Hall of Justice, where sessions dragged into night. Some gave fake names, said they just wanted to light a cigar or that they hated following laws.
Jail terms of eight hours to 10 days were given out. Those who could not pay $5 were jailed for 48 hours.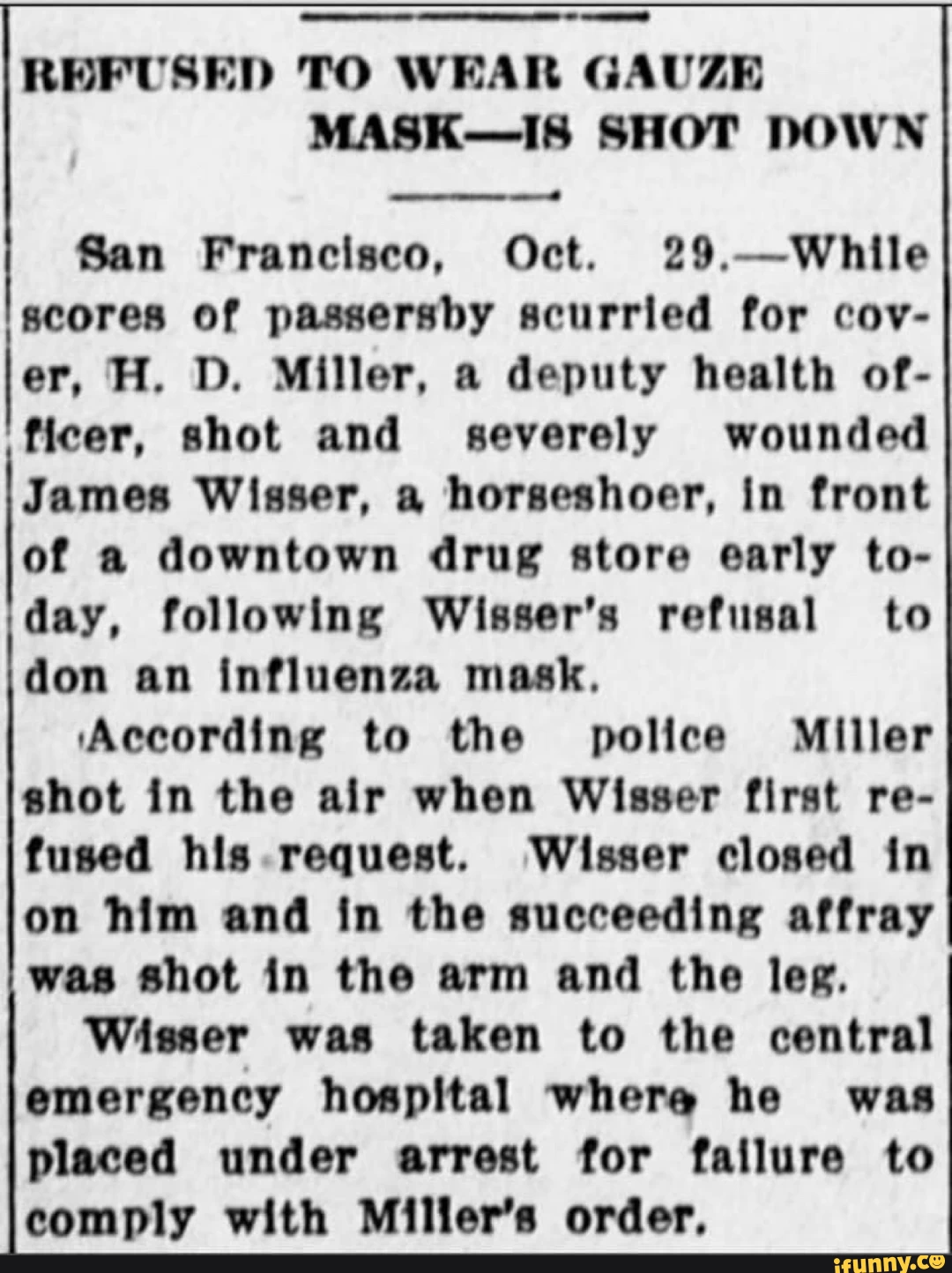 Almost 3 weeks later, on Oct. 28, a blacksmith named James Wisser stood on Powell and Market streets in front of a drugstore, urging a crowd to dispose of their masks, which he described as "bunk."
A health inspector, Henry D. Miller, led him to the drugstore to buy a mask.
At the door, Wisser struck Miller with a sack of silver dollars and knocked him to the ground, The San Francisco Chronicle reported. While being "pummeled," Miller, 62, the health inspector, fired four times with a revolver. Passersby "scurried for cover," The Associated Press said.
Wisser was injured, as were two bystanders. He was charged with disturbing the peace, resisting an officer and assault. The inspector was charged with assault with a deadly weapon.
Transcript:
3 SHOT IN S. F. ROW OVER FLU MASK
By International News Service SAN FRANCISCO, Oct. 28.—Three persons were shot and slightly wounded in a mixup at Powell and Market streets here today, started by the arrest of James Wisser, a horseshoer, for failure to wear a gauze mask. The wounded were: James Wisser, horseshoer, shot in leg and right hand. Henry Appleton, carpet layer, shot in right knee. Unidentified woman, who was taken home after being treated in a drug store for gunshot wounds. According to Henry D. Miller, a special officer for the board of health, he placed Wisser under arrest for failure to wear a mask. Wisser, Miller says, resisted. Then, Miller says, he drew his gun to use as a club and claims that the weapon was discharged accidentally. Seven shots were fired by Miller, according to eye-witnesses.
Sources: