Totally overlooked by the mainstream press, at the beginning of May 2022, Missouri Attorney General (AG) Eric Schmitt's office filed a landmark lawsuit against the Biden Administration.
Then, just last week, Attorney General Schmitt landed a big blow against Biden by filing a motion to prohibit the censorship conspiracy immediately.
SEE HERE for a copy of the lawsuit.
The Gateway Pundit, who later became the lead plaintiff in the landmark case, had the honor and privilege to work with the Missouri Attorney General's Office to offer extensive evidence of Big Tech's large-scale censorship and coordination with the federal government.
More on that below.
The AG's suit against the Biden Admin. also sues some other deserving people and agencies, including:
The suit, brought along with the Louisiana Attorney General's Office, is filed in the United States District Court for the Western District of Louisiana.
In the suit, Missouri Attorney General Schmitt pounds away on the Biden regime for both conspiring with and also compelling Big Tech social media companies, to censor millions of Americans on their social media accounts through a governmentally created social media censorship program.
If you've been alive since Trump ascended to the Presidency, and you're a Trump supporter, chances are you've already been a victim of Big Tech's censorship.
HOWEVER, you've probably also noticed that as soon as Biden took office (and even shortly before, leading up to the 2020 election), Big Tech's censorship went on overdrive.
From the COVID-19 "pandemic's" actual origins in Wuhan, Hubei Province, Red China, to the face-diaper masking of America, to the COVID-19 "vaccine," to half the country's concern about election fraud in the 2020 election, to the Hunter Biden Laptop, disfavored positions Americans posted on social media have been met with outrageous censorship, consisting of at least:
sudden account termination;
account suspension;
imposing warnings or "strikes" against accounts to chill future speech;
shadow-banning;
demonetizing content;
adjusting algorithms to suppress or de-emphasize speakers or messages;
promoting or demoting content;
placing warning labels on content ("This Article's Claims are False");
suppressing content in OTHER users' feeds;
promoting negative comments on disfavored content; and
requiring additional click-throughs to access content, among others.
You may recall that Gateway Pundit's Jim Hoft and Joe Hoft have each been banned from Twitter, for calling attention to the Detroit TCF Center's election night 3:30 a.m. illegal ballot dump of some sixty-thousand (60,000) ballots. As soon as Jim Hoft tweeted out a link to the surveillance footage and promised more video to come, Twitter permanently banned the Gateway Pundit account.
Attorney General Eric Schmitt filed a massive motion to prevent the Biden Administration from violating Americans' First Amendment rights. The Motion asks the Court to:
Immediately restrain the Biden Administration from colluding with and/or compelling Big Tech to censor Americans' speech; and
Permit an investigation into Biden's social-media censorship activities.
The Gateway Pundit provided a large amount of evidence of Big Tech's censorship of the prominent news website to AG Schmitt's Office, and the Attorney General filed the evidence with the Court.
Jim Hoft and The Gateway Pu… by Jim Hoft
Gateway Pundit was very pleased and honored to have the opportunity to work with the Missouri Attorney General on this prominent case.
Let's hope the Court appreciates the severity of the Constitutional deprivations that have occurred and continue to occur to millions of Americans on a daily basis.
Source: TheGatewayPundit
The Gateway Pundit later wrote about a whistleblower who dumped a cache of internal documents from the Department of Homeland Security into the lap of Senators Josh Hawley of Missouri and Chuck Grassley of Iowa. The documents confirm that DHS has maintained an ongoing "disinformation" censorship program, targeting anyone with COVID vaccine concerns and 2020 election fraud concerns – and anyone else thinking Wrongthink.
In the lawsuit, the Biden Administration has fought tooth-and-nail to stop Attorney General Schmitt from getting justice not only for citizens of Missouri, but also for all of us in the US, and to stop actually Fascist (that is governmentally sponsored, Big Tech) censorship of our speech and thoughts.
AMAZINGLY, the federal judge in the suit guaranteed that AG Schmitt could conduct a critical series of investigations into no less than five (5) tech companies of his choice.
As of now, Attorney General Schmitt of Missouri has chance to blow this whole fascist censorship campaign wide-open.
The subpoenas request all communications between the government officials and bodies and Facebook founder Mark Zuckerberg.
In December 2020 a FOIA request revealed several communications between Fauci and Zuckerberg.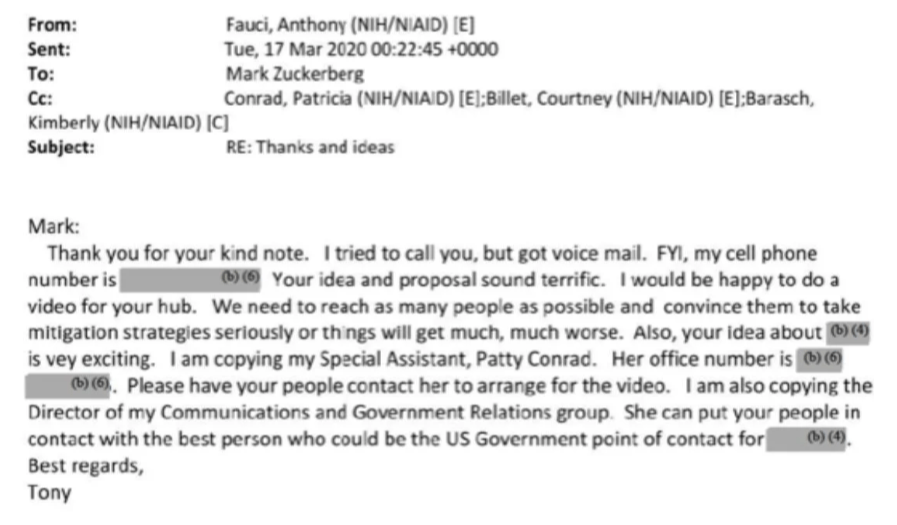 In the suit, Missouri Attorney General Schmitt pounds away on the Biden regime for both conspiring with and also compelling Big Tech social media companies, to censor millions of Americans on their social media accounts through a governmentally created social media censorship program.
Missouri Attorney General Eric Schmitt posted this report on latest developments in the lawsuit the Missouri AG website on July 19th, 2022.
Yesterday, Missouri Attorney General Eric Schmitt and Louisiana Attorney General Jeff Landry served discovery requests on top Biden Administration Officials and today served third-party subpoenas on social media giants Twitter, Meta, Youtube, Instagram, and LinkedIn. The discovery requests and subpoenas come as part of Missouri's and Louisiana's lawsuit against the Biden Administration for allegedly colluding with social media giants to censor and suppress freedom of speech. Earlier this month, a federal court granted Missouri's and Louisiana's request for expedited discovery and documents, and yesterday Missouri and Louisiana served those discovery requests.

"In May, Missouri and Louisiana filed a landmark lawsuit against top-ranking Biden Administration officials for allegedly colluding with social media giants to suppress free speech on topics like COVID-19 and election security," said Attorney General Schmitt. "Earlier this month, a federal court granted our motion for expedited discovery, allowing us to collect important documents from Biden Administration officials. Yesterday, we served discovery requests and today served third-party subpoenas to do exactly that. We will fight to get to the bottom of this alleged collusion and expose the suppression of freedom of speech by social media giants at the behest of top-ranking government officials."

Discovery requests were served asking for information and documents from Dr. Anthony Fauci and the National Institute of Allergies and Infectious Diseases (NIAID), the Centers for Disease Control (CDC), Jen Easterly and the Cybersecurity and Infrastructure Security Agency (CISA), the Department of Homeland Security (DHS), the Department of Health and Human Services (HHS), White House Press Secretary Karine Jean-Pierre, Surgeon General Vivek Murthy, and Nina Jankowicz.

Third-party subpoenas were also served to Twitter, Youtube, Meta, Instagram, and LinkedIn.

One set of discovery contains interrogatories and requests for documents from Defendant Dr. Fauci and NIAID on certain items like: (1) Identify all Communications with any Social-Media Platform relating to Content Modulation and/or Misinformation, (2) Identify all meetings with any Social-Media Platform relating to Content Modulation and/or Misinformation, (3) Identify all Communications with Mark Zuckerberg from January 1, 2020 to the present, including but not limited to those referenced in Paragraphs 142- 145 of the Complaint, (4) Identify all Communications with any Social-Media Platform that relate to the Great Barrington Declaration, the authors of the Great Barrington Declaration, the original signers of the Great Barrington Declaration, Dr. Jay Bhattacharya, Dr. Martin Kulldorff, Dr. Aaron Kheriaty, Dr. Sunetra Gupta, Dr. Scott Atlas, Alex Berenson, Dr. Peter Daszak, Dr. Shi Zhengli, the Wuhan Institute of Virology, EcoHealth Alliance, and/or any member of the so-called "Disinformation Dozen," and more.
Read the rest here. Just the News also reported on the subpoenas HERE
SEPT 2022 UPDATE: Biden admin held weekly censorship meetings with social media giants to suppress COVID and vaccine speech
Federal officials in the Biden administration secretly conspired and communicated with social media companies to censor and suppress Americans' private speech. This is revealed in a new lawsuit brought in a joint effort by The New Civil Liberties Alliance, the Attorney General of Missouri, and the Attorney General of Louisiana against the President of the United States. The suit is brought under the first amendment right to freedom of speech. The lawsuit seeks to identify among other things "all meetings with any Social-Media Platform relating to Content Modulation and/or Misinformation."
The discovery shows that there was "A recurring meeting usually entitled USG – Industry meeting, which has generally had a monthly cadence, and is between government agencies and private industry. Government participants have included CISA's Election Security and Resilience team, DHS's Office of Intelligence and Analysis, the FBI's foreign influence task force, the Justice Department's national security division, and the Office of the Director of National Intelligence. Industry participants have included Google, Facebook, Twitter, Reddit, Microsoft, Verizon Media, Pinterest, LinkedIn and the Wikimedia Foundation. The topics discussed include, but are not limited to: information sharing around elections risk, briefs from industry, threat updates, and highlights and upcoming watch outs."
Communications across 11 federal agencies reveal that the federal government, under the Biden administration, "has exerted tremendous pressure on social-media companies—pressure to which companies have repeatedly bowed," the New Civil Liberties Alliance details in a new release. The social media companies that were part of this Partner Support Portal include Twitter, Facebook, Instagram, YouTube, and LinkedIn.
The CDC invited "all tech platforms" in to their meeting to discuss how to suppress free speech about Covid online.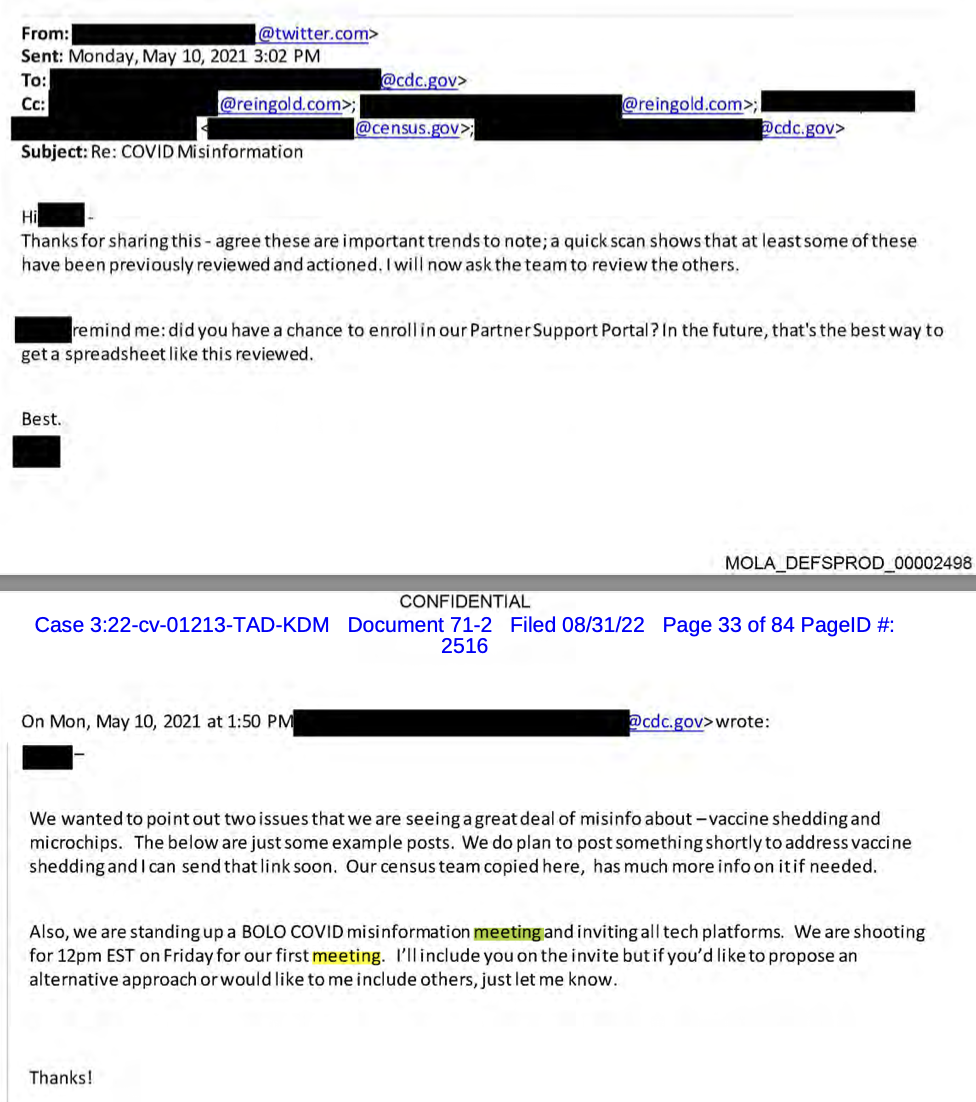 Those agencies involved include the White House, HHS, DHS, CISA, the CDC, NIAID, the Office of the Surgeon General, the Census Bureau, the FDA, the FBI, the State Department, the Treasury Department, and the U.S. Election Assistance Commission. The NCLA notes further that, during the discovery process of this lawsuit, "the government has been uncooperative and has resisted complying with the discovery order every step of the way—especially with regard to Anthony Fauci's communications."
The reasons for noncompliance include the defendants claims that "White House communications are privileged, even though such privilege does not apply to external communications," the NCLA states.
In a 700+ page Joint Statement on Discovery Disputes, what was termed the Partner Support Portal was revealed, an integrated communication system between government agencies and officials and social media companies to regulate and control Americans' speech not only with regard to Covid but as regards their own experiences.
Meta identified 32 federal officials who were involved in censorship requests on the platform, while Twitter disclosed 9 and YouTube 11. Communications did not only go from the government to the platforms. One notable occurrence happened after President Joe Biden claimed, in July 2021, that Facebook was "killing people." Meta reached out to the Surgeon General after that comment to "engage in damage control and appease the President's wrath," the NCLA states.
A Meta executive reported back to the government, saying "I wanted to make sure you saw the steps we took just this past week to adjust policies on what we are removing with respect to misinformation, as well as steps taken to further address the 'disinfo dozen': we removed 17 additional Pages, Groups, and Instagram accounts tied to the disinfo dozen…."
According to emails, the information that was censored includes vaccine refusal, and members of the military were targeted. "Vaccine refusal appeared in two main contexts in highly engaged posts – military refusals and consequences (often employment-related) for refusing the vaccine."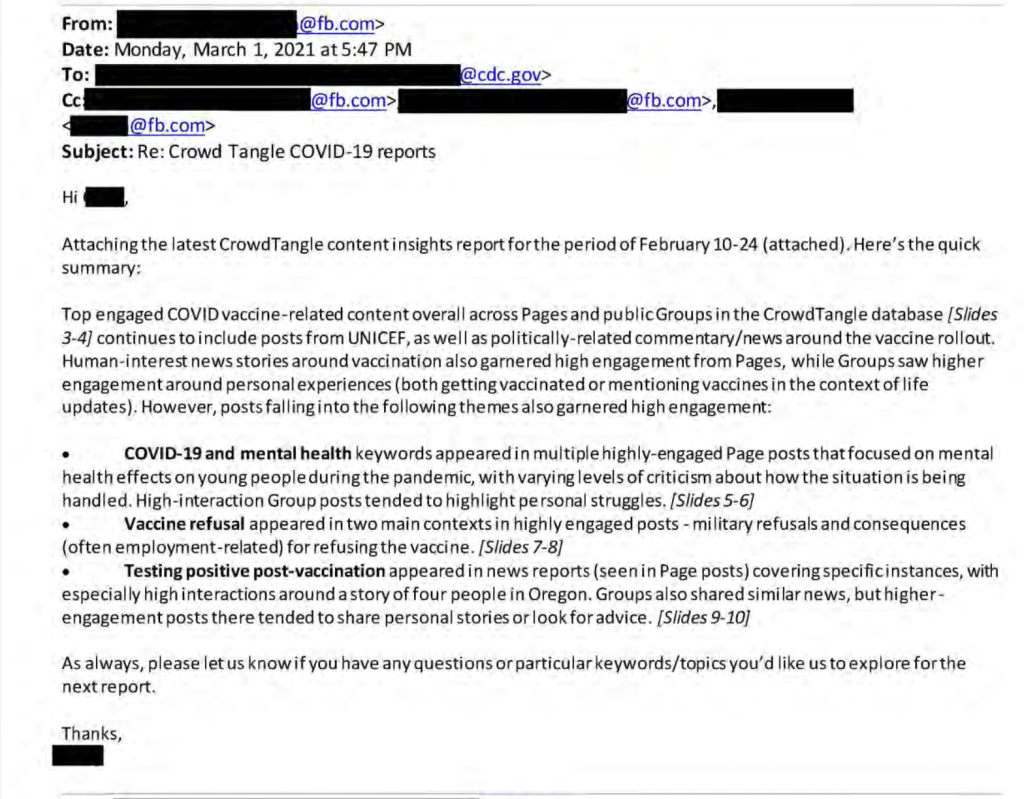 They targeted people who were sharing their own stories and experiences. "News and reports of severe vaccine side effects included both first- and secondhand reports in Groups, with users sharing photos and video related to their own experiences. Highly engaged Page posts contained some news reports of bad side effects, but also included content meant to educate the public."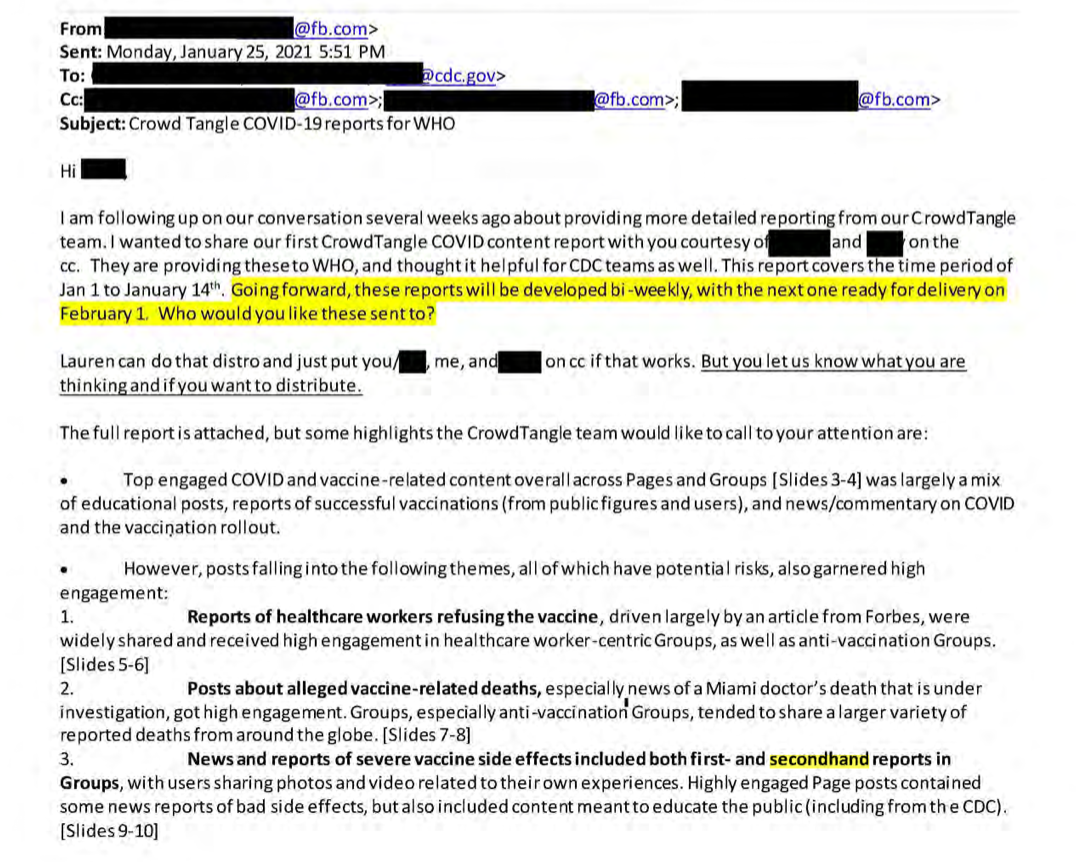 Another communication came from "strategic communications and marketing firm" Reingold, indicating that outside consultants were brought in to manage the government's collaboration with social media companies to censor Americans' speech. Reingold discussed which government agencies' emails should be linked to the portal to flag and censor speech. This was for done for the CDC and the Census Bureau, per the below email.
"I hope you had a good weekend," it begins. "I'm following up about the partner support portal enrollment for CDC. Does the Twitter account need to be connected to a cdc.gov email or is any account fine? Also, would there be any issues or complications stemming from flagging COVID misinformation on the portal using the existing census.gov accounts that have access? We'll want to have at least some CDC accounts whitelisted, but that backup may be helpful in the short-term."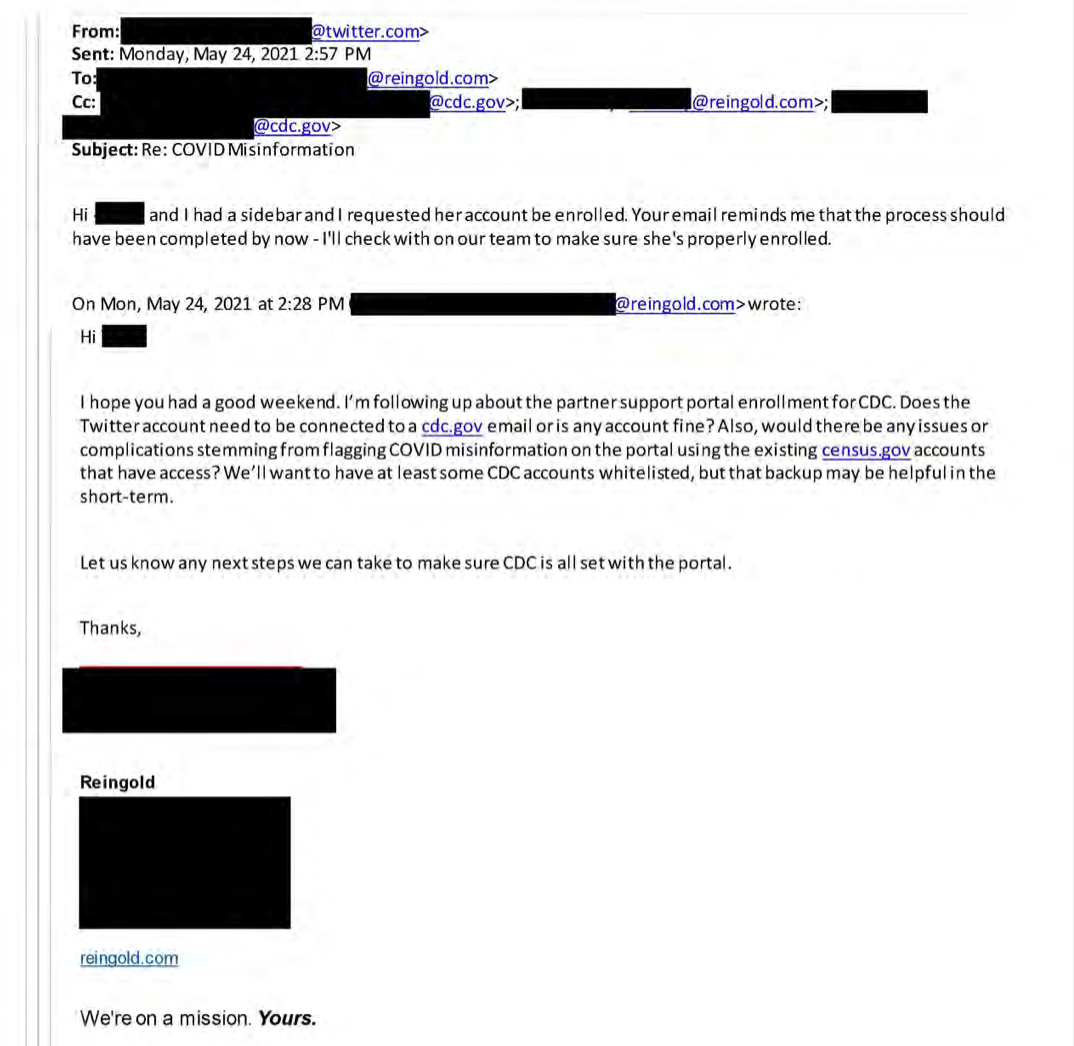 An email sent from a Facebook email address to someone at the State Department gives details on the efforts Facebook had taken to "control information and misinformation related to Corona virus." This was sent in February 2020, before the pandemic was substantially underway in the US. It reads:
"As you may already be aware, Facebook has taken proactive as well as reactive steps to control information and misinformation related to Corona virus which includes links to WHO page as well as removal of misinformation.
"At Mark Zuckerberg's request," it continues, "there is a group that has been organized to help generate and implement new ideas 'offense' approach on how FB can assist in the global response to the Coronavirus. This group met on Friday, brainstormed and proposed a list of prioritized ideas to Mark. Mark supported further exploration and go forward on the following ideas. As an immediate next step, our team has been asked to solicit quick, high-end level partner feedback on these ideas."
Those ideas include: "A centralized page with curated and localized content from trusted sources. This info is currently fragmented and hard for the public to understand. It would be helpful to have canonical real-time info on (a) updates relevant to your location (b) what to do to stay healthy and (c) how and when to seek medical help. Encourage people to take action by sharing this page.
"Influencer Engagement Campaign: Enlist celebrities, major NGOs, government officials, and other public figures to use the Coronavirus stickers and link to the Coronavirus Facebook Page to build awareness of accurate information.
"Coronavirus Support Stickers on Facebook, Instagram, and Messenger Stories
(mock here): Allow people to show their support for people affected by coronavirus. On Instagram, the sticker could link out to the Coronavirus Page on Facebook (link out not available on Facebook and Messenger.)"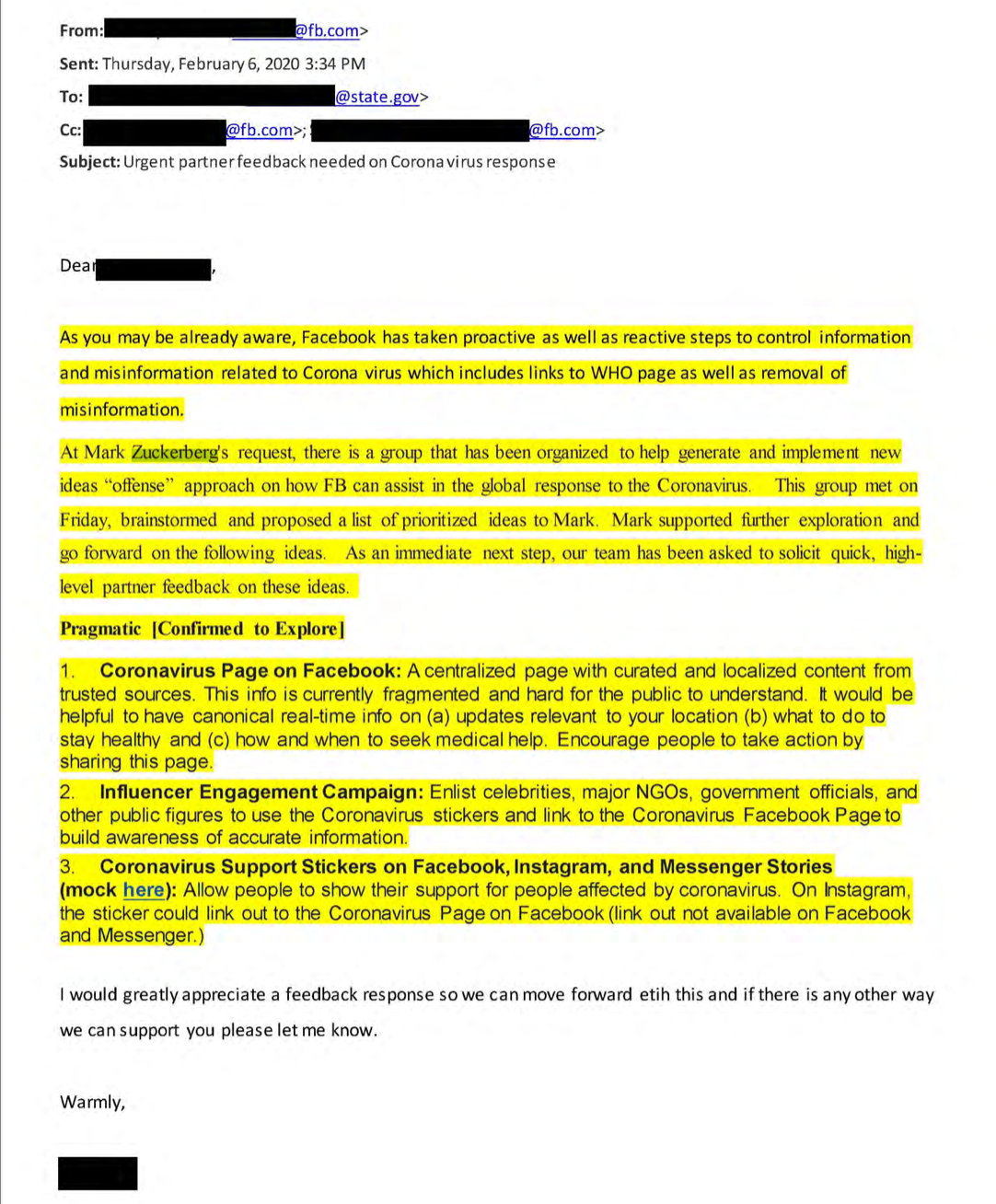 The government officials and social media platforms worked together to remove "misinformation" reported from women about peculiarities in their menstrual cycle after taking the Covid vaccine. It was later confirmed that the vaccine did have an impact on menstruation.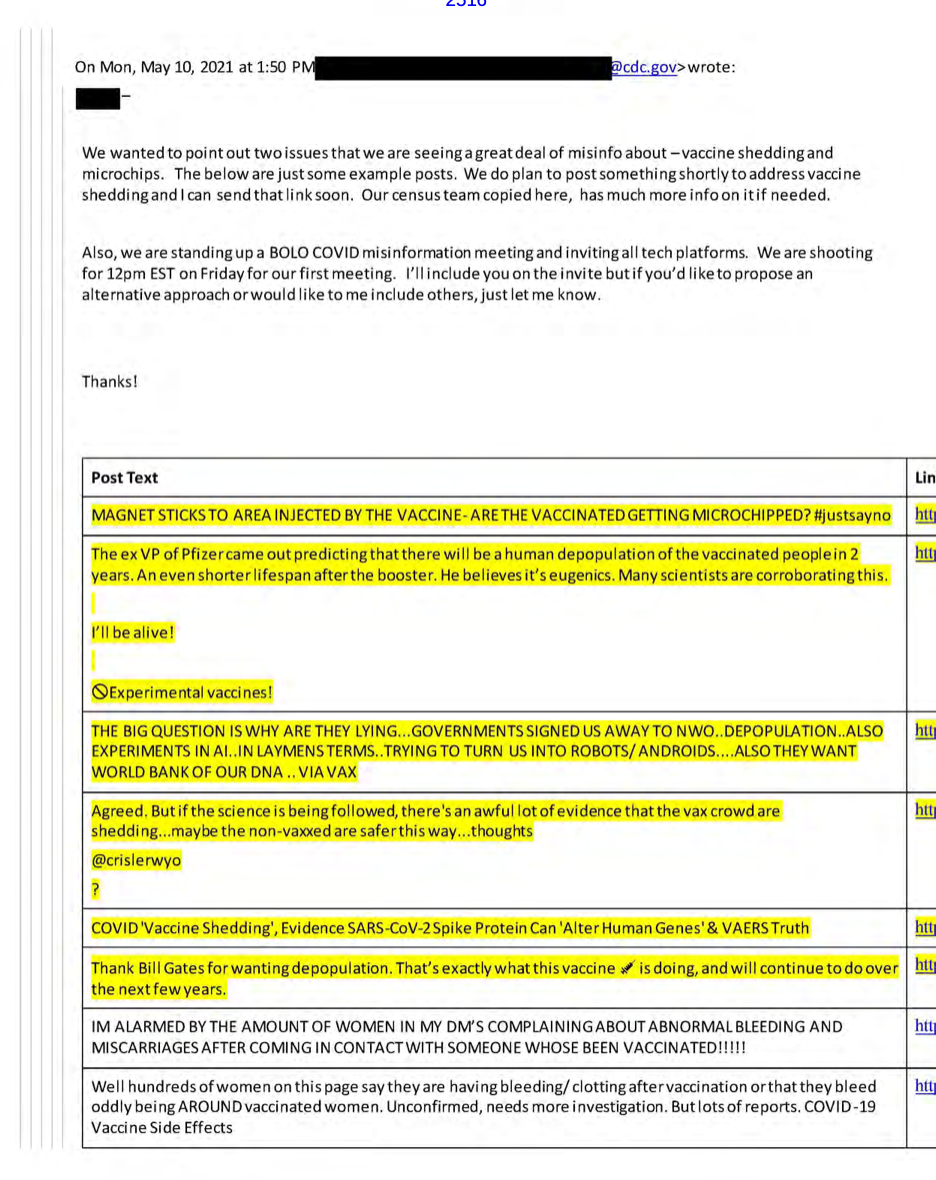 The team suppressed "misinformation" about vaccine passports, which were later made compulsory in places like New York City.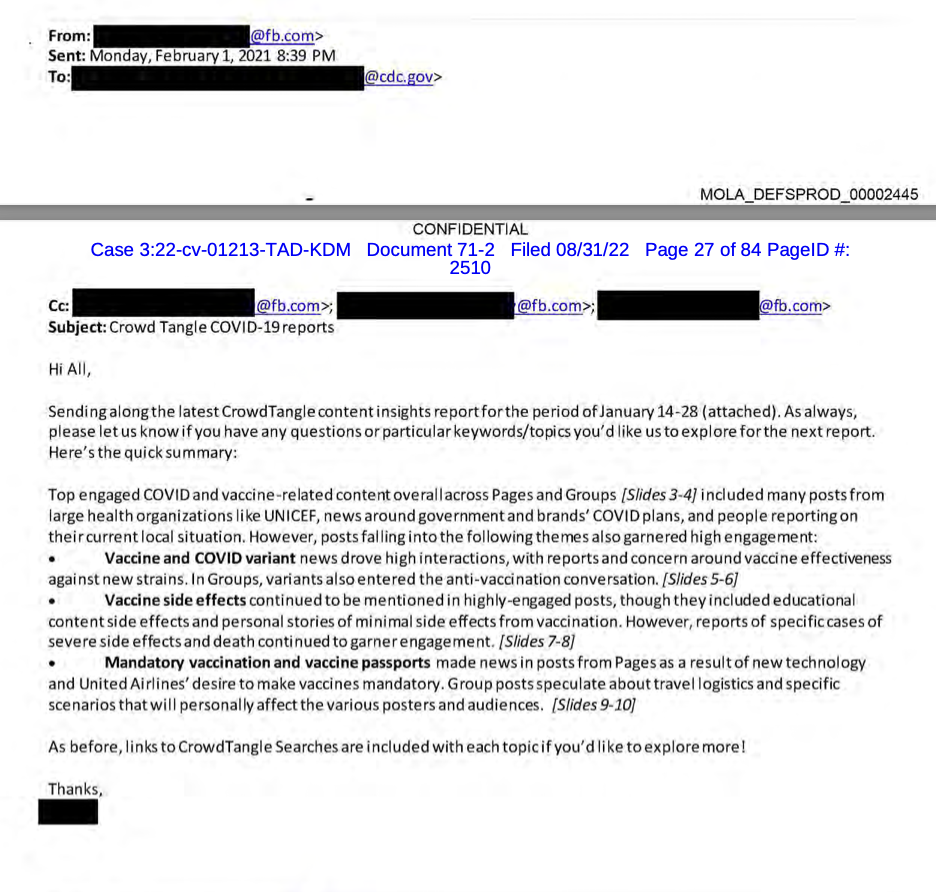 Side effects from vaccination were also suppressed as "misinformation."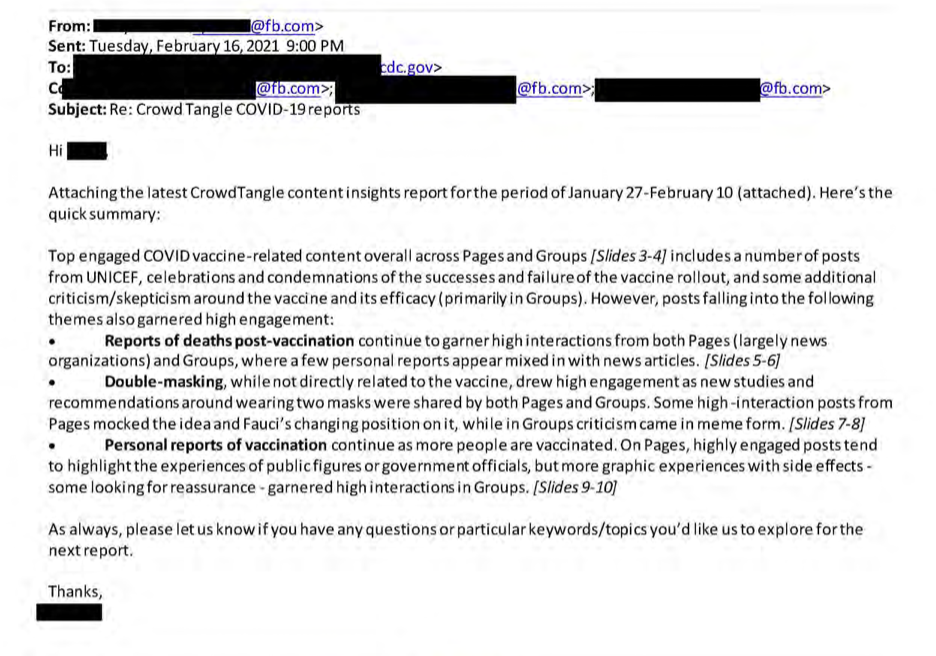 Sources: TGP; ThePostMillenial
UPDATES: