As with almost all mass shootings, the Pittsburgh Tree of Life Congregation Synagogue shooting appears to be another manufactured false flag designed to frame a white male patsy as a racist terrorist. This has been and continues to be the false narrative echoed in mainstream media and by the DHS and FBI, etc. while refusing to label Antifa or Black Lives Matter rioters who have destroyed billions in property and murdered hundreds in riots throughout American cities.
Dr Karl Williams, chief medical examiner of Allegheny County, listed 'the victims'.
They were: Joyce Fienberg, 75; Richard Gottfried, 65, Rose Mallinger, 97; Jerry Rabinowitz, 66; Cecil Rosenthal, 59, and his brother David Rosenthal, 54; married couple Bernice Simon, 84, and Sylvan Simon, 86; Daniel Stein, 71; Melvin Wax, 88; and Irving Younger, 69.
"No bodies, No injuries, No ambulances, No stretchers, No blood, No video of a single victim, No interviews with congregants or rabbis present, No photos of a single piece of real evidence, Nothing whatsoever has been presented that proves the synagogue massacre even happened."
There was a drill on the same day. There was 'an actor' in the synagogue. In the audio the police kept referring to the shooter or suspect as 'actor' (perhaps not too uncommon), but also the crime scene as 'stage' (uncommon) throughout the audio.
The Patsy
Robert Bowers lived, on his own, in an apartment in Pittsburgh.
Neighbors say he was a trucker, and, was quiet and unremarkable. Neighbor Kerri Owens says: "He said he was a truck driver and would be gone a lot and he was often away for days at a time. We had no idea about all the guns. I didn't see any signs… He seemed so normal."
Linda Lohr, a retired paralegal, told the Pittsburgh Post-Gazette she was shocked, saying that although Bowers was quiet, he was also the kind of neighbor who would call to let her know if she left the garage door open. Terry Choate, a retired government contractor, told the Post-Gazette he knew Bowers for nearly the suspect's entire life. 'I can't believe he did that. 'Pittsburgh Synagogue Massacre Suspect Was the Bland Man from Apartment 1 – The New York Times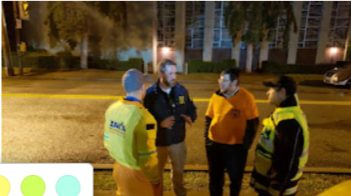 Zaka, an Israeli organization, was involved after the event and are commonly involved in mass casualty events. The ZAKA Commander in Pittsburgh Rabbi Elisar Adom was an active ZAKA volunteer in Israel before moving to America. He gathered ZAKA Search and Rescue USA volunteers at the Tree of Life synagogue 'to recover bodies'.
A 'terror' drill took place earlier in 2018 at the Jewish Community center in Pittsburgh.
During the January 2018 drill, "The shooter moved quickly through the building, using blanks to claim 'victims'… The drill was designed to allow 150 police officers, firefighters and paramedics to practice the process for an active shooter situation. Firefighters and paramedics assessed the injuries among the 70 volunteers who were playing victims." Following the false flag shooting on October 27th, 2018 the synagogue's former president Michael Eisenberg said that the Department of Homeland Security had also run 'safety' drills at this very synagogue. There's evidence that the synagogue shooting was a pre-planned drill as well:
Alvin Berkun is a rabbi emeritus of the Tree of Life synagogue in Pittsburgh where he was a rabbi for 23 years and is also a past president of the Rabbinical Assembly, a former Navy chaplain, and an active police chaplain. He also has long-standing ties to the U.S. government and is shown in a C-SPAN clip from 1993 leading a prayer in the U.S. House of Representatives. His son Jonathan Berkun is the rabbi of the Aventura TJC synagogue where the MAGA-bomber false flag took place. Jonathan, perhaps not coincidentally, grew up in Pittsburgh and attended the Tree of Life Synagogue. He had his bar mitzvah at the Pittsburgh synagogue, and his sisters were married there.
Alvin Berkun was scheduled to be at the Tree of Life services on Saturday morning, October 27, the morning of the alleged shooting, but his wife was not feeling well and asked him to stay home – fortuitously. According to Jonathan Berkun in a blog post of October 29, his mother was not only "not feeling well" but in a nearby hospital with an infection, and he went straight there to see her when he arrived in Pittsburgh on Sunday. He and his father then left to take part in a community prayer vigil held in response to the shooting. As Jonathan notes:
Here's one truth: Elderly Jews tend to come early to synagogue on Shabbat, and for some reason, many of them prefer to sit in the back. Maybe it's so they can sleep through the rabbi's sermon unnoticed, or maybe because it's a shorter walk to the bathroom. That back row is where my father sits early every Shabbat at the Tree of life Congregation. But the shooter also came early, and today, every single person who sits with my father in synagogue is dead. I have no doubt that had my mother not been ill, I would have flown home not to comfort my father, but to bury him.
Wait – I thought that Jews come late to Saturday services. Oh, I'm sorry, that was another former rabbi of Tree of Life who said that: Chuck Diamond. Anyway, whatever. Whatever fits the narrative!
Alvin Berkun was one of several rabbis who visited convicted Israeli spy, Jonathan Pollard in federal prison, which suggests that he was working for his release as an intermediary for Israel. According to Berkun, Pollard's sentence was much harsher than those of other spies who have given U.S. secrets to foreign states. "I can't help but think there's an element of prejudice," he said, indicating that, in his opinion, Pollard has been "singled-out." The group of rabbis had special access to Pollard and were even allowed to hug him. "I found the visit to be very moving," Berkun said.
Pollard was imprisoned on espionage charges beginning in 1985, in solitary confinement for the first seven years of his incarceration. The leaders of the Reform and Conservative movements were "engaged in vigorous advocacy for years, passing resolutions, issuing public statements, advocating Pollard's clemency to four presidential administrations and to Congress and working with the large number of their member rabbis across the nation who have regularly preached and written on the unfairness and inequities of Pollard's sentence," which they considered "grossly disproportionate."
Pollard had sold to Israel numerous U.S. state secrets, including the NSA's ten-volume manual on how the U.S. gathers its signal intelligence, and he revealed the names of thousands of people who had cooperated with U.S. intelligence. Benjamin Netanyahu insisted that Pollard had worked exclusively for Israel, but Pollard himself admitted selling his services to other parties. After a long campaign by Israel for his release, with legions of supporters from Netanyahu and Shimon Peres to Henry Kissinger and Alan Dershowitz, Pollard was finally granted parole and released in 2015 under Barack Obama. Although considered a traitor in the United States, Pollard is regarded a hero by many in Israel.
These connections are outlined in a short video, "MAGA Bomber and Pittsburgh Synagogue Shooting False Flags" by "impartjewish," which makes one wonder if Alvin and Jonathan Berkun are tied to Israeli intelligence. Jonathan Berkun worked with the FBI on a sting in 2016 involving the (fake) bombing of his own synagogue: James Gonzalo Medina was arrested while carrying a non-explosive device toward the Aventura Turnberry Jewish Center. "The synagogue's leaders sought to reassure congregants and, even as news spread through south Florida, they said their facilities were open…for a normal day."
Rabbi Jonathan Berkun and the center's executive director, Elliot B. Karp, said they were assured by security officials that "the synagogue and school were never at risk at any time" and were told no other credible threats had been found.
Debbie Wasserman Schultz was apparently in on the scam and spoke out about the 2016 arrest, which occurred during the final days of Passover.
"This attempted attack is a harsh reminder that there are many in our community who are motivated by bigotry and violence," she said in a statement. "As a community and a nation we must work together to confront this kind of hatred."
Jonathan Berkun has been photographed frequently with Wasserman Schultz, and they both spoke out at a press conference on the day of the Pittsburgh synagogue shooting – against "the rise of anti-Semitic acts in South Florida and across the U.S."
One is left to wonder whether the MAGAbomber hoax and the alleged Tree of Life shooting were carried out by Israeli intelligence with the help of members of the U.S. Jewish community.
Sources:
https://themillenniumreport.com/2018/10/synagogue-shooting-proves-to-be-yet-another-false-flag-operation/
https://jamesfetzer.org/2018/11/vivian-lee-magabomber-and-pittsburgh-synagogue-shooting-mossad-connections/