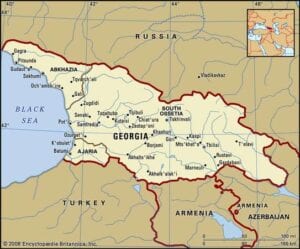 Georgia, Georgian Sakartvelo, country of Transcaucasia located at the eastern end of the Black Sea on the southern flanks of the main crest of the Greater Caucasus Mountains. It is bounded on the north and northeast by Russia, on the east and southeast by Azerbaijan, on the south by Armenia and Turkey, and on the west by the Black Sea. Georgia includes three ethnic enclaves: Abkhazia, in the northwest (principal city Sokhumi); Ajaria, in the southwest (principal city Batʿumi); and South Ossetia, in the north (principal city Tskhinvali). The capital of Georgia is Tbilisi (Tiflis).
The roots of the Georgian people extend deep in history; their cultural heritage is equally ancient and rich. During the medieval period a powerful Georgian kingdom existed, reaching its height between the 10th and 13th centuries. After a long period of Turkish and Persian domination, Georgia was annexed by the Russian Empire in the 19th century. An independent Georgian state existed from 1918 to 1921, when it was incorporated into the Soviet Union. In 1936 Georgia became a constituent (union) republic and continued as such until the collapse of the Soviet Union. During the Soviet period the Georgian economy was modernized and diversified. One of the most independence-minded republics, Georgia declared sovereignty on November 19, 1989, and independence on April 9, 1991.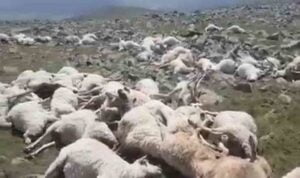 A bizarre case of mass carnage erupted on a mountain in the country of Georgia earlier this month when a single lightning bolt killed an astounding 550 sheep. The jaw-dropping incident reportedly unfolded in the community of Ninotsminda on August 9th when a thunderstorm passed over the area. Shortly thereafter, rancher Nikolay Levanov was informed by his sheepherder that a lightning bolt had wiped out a whopping 100 ...
Read More
(Zbigniew Brzinski - Audience applauses) Ladies and Gentlemen, Robin. Thank you very much for your as always elegant and eloquent introduction. I've heard him many times when he was running the Center for Strategic and International Studies in
Washington
and if anything his eloquent and elegant has increased ever since he's been rehabilitated in the society here. (Audience laughs; ah ah ah...) I am also delighted ...
Read More