Following contentious Congressional testimony this week from Twitter CEO Jack Dorsey and a 22% drop on Friday, the social media giant finally decided to unlock the New York Post's account just days before the general election – after more than two weeks in Twitter jail for posting a negative article on the company's preferred candidate, Joe Biden.
In a Friday afternoon thread, Twitter Safety wrote that their policies are 'living documents' which they're willing to 'update and adjust when we encounter new scenarios or receive important feedback from the public.'
The company says they're 'updating our practice of not retroactively overturning prior enforcement," and have decided to let the Post have their account back.
Our policies are living documents. We're willing to update and adjust them when we encounter new scenarios or receive important feedback from the public. One such example is the recent change to our Hacked Materials Policy and its impact on accounts like the New York Post.

— Twitter Safety (@TwitterSafety) October 30, 2020
This means that because a specific @nypost enforcement led us to update the Hacked Materials Policy, we will no longer restrict their account under the terms of the previous policy and they can now Tweet again.

— Twitter Safety (@TwitterSafety) October 30, 2020
We're baaaaaaack https://t.co/D39qdLGMdV pic.twitter.com/SkVtp4o9ew

— New York Post (@nypost) October 30, 2020
In short, Senator Ted Cruz (R-TX) was able to stop Twitter's obvious election meddling by silencing one of the largest (and oldest) outlets in the country.
Sen. Ted Cruz:

"Mr. Dorsey, who the hell elected you? And put you in charge of what the media are allowed to report, and what the American people are allowed to hear… and why do you persist in behaving as a Democratic super PAC?" pic.twitter.com/lrC9II2MxL

— Laura Ingraham (@IngrahamAngle) October 28, 2020
The move also comes after DHS Acting Secretary Chad Wolf penned a scorching letter to Twitter demanding answers over why they've censored Customs and Border Protection senior official Mark Morgan over a post touting the southern border wall as helping to "stop gang members, murderers, sexual predators, and drugs from entering our country." It appears his account is still locked, however.
Twitter's censoring of factual information poses a threat to national security.

It should not be up to corporate bureaucrats to determine what security information the American public receives. https://t.co/9WzHcn4HLn pic.twitter.com/4lHJW5vEpZ

— Acting Secretary Chad Wolf (@DHS_Wolf) October 30, 2020
After weeks of grandstanding from @Twitter, it's good to have the @nypost back.

— Sen. Marsha Blackburn (@MarshaBlackburn) October 30, 2020
TWITTER SAYS WILL NO LONGER RESTRICT NEW YORK POST ACCOUNT pic.twitter.com/RLDldPMaiq

— zerohedge (@zerohedge) October 30, 2020
The company was last able to post on October 14, the day they dropped a bombshell report regarding alleged incriminating contents on Hunter Biden's laptop.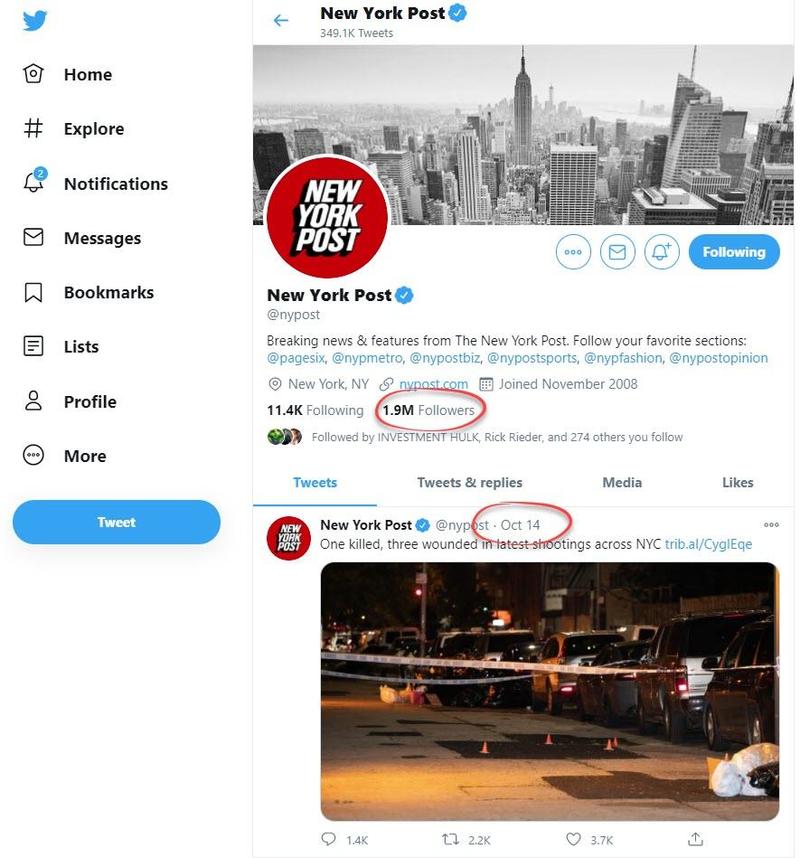 Earlier in the day, CNN's Jake Tapper suggested the post simply bend the knee and delete the offending tweet.
.@nypost has been locked out of their Twitter account and unable to post since Oct. 14. According to Social Blade, they've gained 189,395 new Twitter followers, which represents a 10.6% increase in followers over a two week period with zero posts… You love to see it. pic.twitter.com/DmgP9i62dz

— Tyler Cardon (@TyCardon) October 30, 2020
Source: ZeroHedge