US Senator Larry Craig was arrested for lewd conduct in a men's restroom at the Minneapolis-St. Paul International Airport. Apparently there had been complaints of sexual activity in the restroom so a police officer was stationed in the one of the stalls undercover. Eventually Craig allegedly entered the stall next to him and began reaching under the partition to signal the officer. The officer responded by flashing his badge under the partition. Certainly there are alot of closet homosexuals in DC, but the investigation below may convince many that Craig was the victim of a smear campaign.
From the Idaho Statesman:
Sen. Larry Craig, who in May told the Idaho Statesman he had never engaged in homosexual acts, was arrested less than a month later by an undercover police officer who said Craig made a sexual advance toward him in an airport men's room.
The arrest at a Minnesota airport prompted Craig to plead guilty to disorderly conduct earlier this month. His June 11 encounter with the officer was similar to an incident in a men's room in a Washington, D.C., rail station described by a Washington-area man to the Idaho Statesman. In that case, the man said he and Craig had sexual contact.
The Minnesota arrest was first reported Monday by Roll Call, a Capitol Hill newspaper.
In an interview on May 14, Craig told the Idaho Statesman he'd never engaged in sex with a man or solicited sex with a man. The Craig interview was the culmination of a Statesman investigation that began after a blogger accused Craig of homosexual sex in October. Over five months, the Statesman examined rumors about Craig dating to his college days and his 1982 pre-emptive denial that he had sex with underage congressional pages.
The most serious finding by the Statesman was the report by a professional man with close ties to Republican officials. The 40-year-old man reported having oral sex with Craig at Washington's Union Station, probably in 2004. The Statesman also spoke with a man who said Craig made a sexual advance toward him at the University of Idaho in 1967 and a man who said Craig "cruised" him for sex in 1994 at the REI store in Boise. The Statesman also explored dozens of allegations that proved untrue, unclear or unverifiable.
Craig, 62, was elected to Congress in 1980. Should he win re-election in 2008 and complete his term, he would be the longest-serving Idahoan ever in Congress. His record includes a series of votes against gay rights and his support of a 2006 amendment to the Idaho Constitution that bars gay marriage and civil unions.
News about the June 11 arrest at the Minneapolis-St. Paul International Airport was reported on Roll Call's Web site Monday. According to police and court records obtained by Roll Call, Craig pleaded guilty Aug. 8 to misdemeanor disorderly conduct in Hennepin County District Court. He paid $575 in fines and fees. A 10-day jail sentence was suspended and Craig received one year's unsupervised probation.
Craig on Monday denied any misconduct. "At the time of this incident, I complained to the police that they were misconstruing my actions," he said in a written statement. "I was not involved in any inappropriate conduct. I should have had the advice of counsel in resolving this matter. In hindsight, I should not have pled guilty. I was trying to handle this matter myself quickly and expeditiously."
Craig, through his staff, declined to answer questions.
Craig resigns Romney post
On Monday afternoon, Craig resigned from his role as the U.S. Senate co-chair of the Mitt Romney for president campaign. Monday night, the Romney campaign canceled a visit to Boise scheduled for today by Romney's son, Josh.
Until Monday, the Statesman had declined to run a story about Craig's sex life, because the paper didn't have enough corroborating evidence and because of the senator's steadfast denial.
In the hourlong May 14 interview, Craig was accompanied by his wife, Suzanne. He specifically and generally denied ever engaging in any homosexual conduct.
During that interview, the Statesman played Craig an audiotape of the man claiming that he and Craig had sex in the Union Station restroom. Like the Minnesota airport restroom, the Union Station restroom is known as a place where men can find anonymous sex.
Craig denied the man's account and said, "I am not gay and I have never been in a restroom in Union Station having sex with anybody.
"There's a very clear bottom line here," Craig said. "I don't do that kind of thing. I am not gay, and I never have been."
Craig's accuser spoke to the Statesman on the condition he not be named. The man said he was sure it was Craig he had oral sex with but said he had no evidence other than his word.
Craig also denied the claims of the two other men that he made sexual advances to them.
One man, who was considering pledging with Craig's fraternity at the U of I in 1967, said Craig took him to his room and made what the man said he took to be an invitation to sex. Responding to that allegation in May, Craig said, "I don't hit on any men."
Another man said that in November 1994 Craig "cruised" him at the REI store in Boise. The man, who is gay, told the Statesman that Craig stared at him in a sexually inviting way and followed him around REI for a half-hour. Said Craig: "Once again, I'm not gay, and I don't cruise, and I don't hit on men. I have no idea how he drew that conclusion. A smile? Here is one thing I do out in public: I make eye contact, I smile at people, they recognize me, they say, 'Oh, hi, Senator.' Or, 'Do I know you?'
"I've been in this business 27 years in the public eye here. I don't go around anywhere hitting on men, and by God, if I did, I wouldn't do it in Boise, Idaho! Jiminy!"
Undecided about re-election
On Aug. 9, the day after his guilty plea in Minnesota, Craig told the Statesman he had yet to decide whether he would seek re-election in 2008. He served five terms in the House before he was elected to the Senate. His third Senate term expires in January 2009. Lt. Gov. Jim Risch has said he will likely run should Craig retire. Former Democratic Rep. Larry LaRocco announced in April that he will run for the Senate.
Craig said that he would announce his re-election plans by mid-September. He said personal factors, including spending time with his nine grandchildren, were weighing on the side of retirement. But he also said he enjoyed his job and the benefits of seniority.
During the interview in May, Craig said his re-election or retirement would not be influenced by accusations that he was gay. "If I'm going to run from these kinds of stupid, false allegations after 27 years in public life, having done a credible job, then I shouldn't have been there in the first place."
Blogger makes claims
The Statesman began its inquiry last October, after a gay activist blogger, Mike Rogers, published a claim that Craig had sex with men. Rogers cited anonymous sources. Rogers believed he had the evidence to nail a hypocritical Republican foe of gay rights, raise the din in the Rep. Mark Foley scandal, and help the Democrats win the Congress.
Millions heard or read of Rogers' claims. Amid anticipatory buzz from Web sites like the liberal Wonkette, Rogers published his report at blogactive.com Oct. 17. He also appeared on a liberal talk show in 100 radio markets. Mainstream media — including four Idaho newspapers, the Washington Post, USA Today, MSNBC and Bill Maher on HBO — spread the story widely.
But Statesman editor Vicki Gowler would not rely on Rogers' anonymous sources. Instead, she decided to investigate the widespread rumors that date to 1982, when Craig pre-emptively denied involvement in a gay sex scandal involving congressmen and underage pages.
During its investigation, the Statesman interviewed 300 people, visited the ranch where Craig grew up, and made two trips to Washington, D.C.
On May 12, two days before its interview with Craig, the Statesman finally interviewed Rogers' "best source," the man who says he is certain he had a brief sexual encounter with Craig at Union Station, which is two blocks from Craig's office. The man said the sex occurred in two restrooms on a weekday afternoon. He estimated the encounter lasted three or four minutes.
The man's motive was twofold. A lifelong Republican, he recently had re-registered as a Democrat because he's angry with what he sees as the GOP's gay-bashing. Second, he was tired of Rogers picking on congressional staffers and offered him the chance to "out" a senator.
The Washington-area man's story has remained consistent, beginning with his Aug. 9, 2004, e-mail to Mike Rogers: "I've hooked up with Craig … why not out some actual members and not their staffers?"
That suggestion came shortly after Rogers launched his outing campaign, prompted by his anger over the GOP election-year push for a constitutional amendment banning gay marriage. Craig voted for the failed measure July 14, 2004. He also has opposed allowing gays or lesbians in the military and voted against extending civil rights protections to homosexuals in the workplace.
Craig told the Statesman in May that he doesn't care about a person's sexual orientation. He said he had a homosexual staffer. "I hire people based on their talent and their ability to produce," he said.
Marriage should be between and man and a woman, Craig said. But he said he supports unions between same-sex couples. "You can have a civil union, but you can't commandeer the institution of marriage. That's very special, religious, culturally, and you can't go there."
Last fall, however, after Rogers' report, Craig issued a statement saying he would vote for an amendment to the Idaho Constitution on the November ballot that bans both gay marriage and civil unions.
In the May 14 interview, Craig and his wife listened to a four-minute excerpt of the Statesman's interview with the 40-year-old man who first spoke to Rogers. At first, Craig objected to the man's anonymity, but agreed to listen. The man's voice was disguised.
Craig said the man is an activist. "The gay movement, we know it for what it is. It's now aggressive and it's liberal and it's naming people to try to put them in compromising, difficult situations."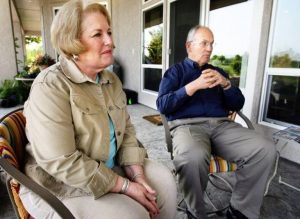 Suzanne Craig's eyes reddened and filled with tears as she listened. After her husband's denial, she said, "I'm incensed that you would even consider such a piece of trash as a credible source."
To which Craig added, "Jiminy God!"
Before moving on to the next question, Craig turned to his wife and said, "Sorry, Hon."
Until Monday's report, Craig was facing a lone credible accuser. Rogers told the Statesman he had lost track of his other two sources, who he said described encounters with the senator, one in Idaho and one in Seattle. Rogers concedes he doesn't know those two sources' last names. "I was an amateur," he told the Statesman.
The Statesman followed dozens of leads about alleged sexual partners. Two prevalent rumors swirl around two men who are dead. The Statesman has found no written record of sexual intimacy between those men and Craig. Relatives of those men are dead, unaware of proof to substantiate the rumors, or unreachable.
Two other alleged partners unequivocally denied having been intimate with Craig. Other accounts are simply unfounded. Some were inconclusive.
There are, however, the two men who told the Statesman Craig made passes at them. Craig denied those accounts in his May 14 interview.
The Page Scandal
Until the Mike Rogers report in October and the Roll Call story on Monday, rumors about Craig were grounded in the 1982 congressional page scandal. Craig denied involvement in 1982, but the timing of his statement fueled rumors that lasted decades. Among them were that Craig married shortly after the scandal to cover up his alleged homosexuality.
Craig and the then-Suzanne Scott had their first date on Valentine's Day 1980, when Craig was making his first run for Congress. Craig proposed six months after the scandal, on Suzanne's birthday, Dec. 28, 1982. They married in July 1983.
About a year before the marriage, on June 30, 1982, 13.3 million viewers of CBS News heard page Leroy Williams allege he had sex with three House members when he was 17.
The following day, Craig issued a statement saying he'd received calls from reporters saying they were going to publish his name in connection with the scandal. His statement called the allegations "part of a concerted effort at character assassination."
"I have done nothing that I need to be either publicly or privately ashamed of. I am guilty of no crime or impropriety, and I am convinced that this is an effort to damage my personal character and destroy my political career."
Craig alone — among 535 members of Congress — issued such a statement. In the news vacuum of the July 4 recess, the freshman Republican was thrust into the national spotlight. A network helicopter followed him to Jordan Valley, Ore., where he attended a potluck for Southwest Idaho ranchers.
He told a national audience: "Persons who are unmarried as I am, by choice or by circumstance, have always been the subject of innuendos, gossip and false accusations. I think this is despicable."
Before he hit the airwaves, Craig hosted a breakfast for his campaign staff at the Owyhee Hotel to tell them what was about to happen. Brad Hoaglun remembers the moment: "He was very matter-of-fact and forthright. He said, 'I want to tell you nothing in the story is accurate.'"
"I was finishing up college. This was my first paid campaign, and I can remember sitting there thinking, my gosh, what have I got myself into? And, OK, do I believe Larry Craig? And I came quickly to the conclusion that, yes, I do."
Hoaglun went on to be an important GOP hand and was former Gov. Jim Risch's spokesman.
After the staff breakfast in 1982, Cheryl Miller, a top Craig campaign aide, drove Craig to Jordan Valley in her silver Pontiac. She said Craig liked to sing along to her 8-track tapes of country western and gospel. It relaxed him. Despite the pressure, Craig's gift for campaigning was unaffected, Miller said. All who knew him believed he'd been wrongly accused, she said.
Staffer John Keenan was on the next leg, from Boise to North Idaho. "It really rattled our cages," said Keenan, a Craig staffer from 1981-85. At a stop in Council, a crew from a second network helicopter "stuck a microphone in his face. I was standing there, just kind of amazed. I was so impressed, he handled it so well."
During the drive, Craig told tales of his youth on the family ranch 24 long miles from Midvale, where he attended the one-room South Crane School, became a champion orator and tussled with a cow that stuck its head in his tent and took off running.
"He took comfort in telling us stories," said Keenan. "He has a sense of humor that he doesn't reveal easily. Gosh, I was laughing my head off."
At the time, a top Craig staffer, Karmen Larson, said reporters from CBS and The New York Post said they were going to name Craig, prompting his denial. The CBS reporter on the story, John Ferrugia, declined comment to the Statesman.
Craig says he 'panicked'
But Peter Fearon, then with the New York Post, said he never said his paper was preparing to name Craig. "No, no — it wasn't 'are you under investigation?' It was simply an inquiry: 'Have you heard anything? Who have you heard about? Have you heard any names mentioned? What's your reaction to this news?'
"The next thing I know, Larry Craig has issued a press release: 'This isn't me.' Which I just thought was a bizarre and ultimately very foolish thing to do.
"He was the only person going on the record anywhere," Fearon said. "And of course, when you do that, it's like raw meat. He's saying, 'Nobody's actually accusing, but it wasn't me!' It's no wonder it's dogged him. He denied something that no one had accused him of."
Four weeks later, page Williams recanted, saying he'd made up the whole thing. A second page who had appeared on CBS, Jeffrey Opp, said he'd exaggerated or misunderstood what he took to be sexual advances from congressmen.
A six-month probe into sex charges was launched by the House ethics committee. In December 1982, they exonerated those accused by Williams and Opp.
The committee chastised CBS's Ferrugia for planting "lurid tales of sexual misconduct and homosexual prostitution in the Congress" in Opp's mind. Opp declined to speak to the Statesman for this story; Williams did not reply to repeated inquiries.
Though his staff credits Craig for a cool head in 1982, he told the Statesman on May 14 that he panicked.
"I was scared, plain and simple scared," he said. "When you have somebody walk into your office and make that kind of allegation and tells me he's gonna go to print — and I'm a freshman congressman and go, 'Oh my God!'"
Craig talks to FBI
Craig allowed the Statesman to review, but not copy, what he said were an FBI report and a privately administered polygraph from 1982 regarding the page scandal.
Craig did not respond to requests to have the FBI verify the authenticity of the FBI document. Craig also declined to sign a waiver allowing the Statesman to review anything in his FBI file regarding homosexuality.
The FBI document supplied by Craig describes a July 20, 1982, FBI interview with Craig at the offices of his Washington law firm. Craig requested the interview with the FBI and said reporters had threatened to disclose allegations of homosexuality.
"Craig stated that he had never engaged in a homosexual relationship" with Williams or Opp, the FBI report said. "Craig further indicated that he has never engaged in a homosexual relationship with any person."
The document says Craig told the FBI that he suspected that then-Rep. Patricia Schroeder, D-Colo., might be behind the allegations against him. Opp was appointed by Schroeder. "Craig said that recent polls indicate strong support for his re-election this fall, and he perceives this as a slanderous campaign by the opposition party to have him defeated," said the report.
An attached document from a polygraph examiner hired by Craig said it was the examiner's opinion "that Congressman Craig is not a homosexual and has since adulthood not engaged in homosexual acts of any type."
Craig also provided the Statesman military records to respond to a rumor he left the Idaho National Guard because he was homosexual. Craig was honorably discharged in 1972, after 20 months of a six-year enlistment.
Had he been discharged for homosexual conduct, a different section of the military code would have been cited, and he wouldn't have received an honorable discharge. Records show he was let go because of a "physical disqualification," although they do not specify the reason. There is no physician's report available, according to the Pentagon and the Idaho Guard. Craig says his ailment was flat feet.
U of I days
Craig told the Statesman he was unaware of rumors about him being gay going back to his college days. Craig had about 150 fraternity brothers at Delta Chi during his U of I years.
The Statesman interviewed 41 of them. Of those 41, three said there were jokes about him being effeminate and possibly gay. Most said that had Craig been thought to be gay, he would have never become a leader in the fraternity and the student body.
As president of Delta Chi, Craig secured a $100,000 loan to remodel the fraternity house, instituted study hours, and blackballed members for drug use. They called him "Mother Craig" for his officiousness.
After shedding 50 pounds the summer before college, he was elected state president of the Future Farmers of America on his second try. He also was student body president at U of I. Graduating in 1969, he won the Donald R. Theophilus Outstanding Senior Award. Five years later, at 28, he was elected to the state Senate. He's been in public office ever since.
Most of Craig's college friends say he was disciplined, studious and serious, even if he was awkward with women.
One woman who dated him off and on for a year asked not to be named, but said, "I don't imagine that he ever held my hand. He was into the gotta-hold-the-door-for-the-woman sort of thing. But I always felt like I was an accessory. I might as well have been his briefcase."
Craig said he did sometimes invite women because a date was expected. But he said he had a serious girlfriend in college; they split over religious differences. He declined to name her.
Men Craig served with or under in Congress — Republicans Jim McClure, Orval Hansen, George Hansen and Steve Symms and Democrats Richard Stallings and Larry LaRocco — all said they have no credible evidence of Craig being gay. The same goes for scores of former staffers. They spoke to the Statesman before Monday's news of Craig's guilty plea.
McClure, whom Craig succeeded in the Senate, said Craig's formal manner of speaking has fueled rumors. Craig was taught by an old-school orator — the late D.L. Carter of Weiser. The lessons served Craig well, as he won state championships, attended two national contests and filled his bedroom at the ranch with trophies.
Said McClure: "He was of the old oratorical school where you went in and took each word and broke it into syllables and enunciated and all of that. And that's how that style came about, to project across a full hall."
Craig also took piano lessons in high school and was in the high school choir.
"Larry's speech patterns are very precise," said McClure. "They're not what you expect from a rancher from Midvale. His speech patterns say, 'Hey, here's a guy who's a little different.' And he is, he's a little different. But that doesn't mean he's homosexual for heaven's sakes! You have to jump from prejudice to suspicion to I don't know what to give the rumors any credibility."
Neighbors weigh in
Last fall, Craig's neighbors at a Washington marina expressed disbelief at Rogers' attempt to out him. Ed Johnson is an openly gay man, former local elected official and has been an acquaintance and neighbor of Craig's off and on for 15 years. He is president of the Gangplank Slipholders Association, a neighbor to the smaller Capital Yacht Club, where Craig lives.
A Democrat, Johnson works for the American Humanists Association, which he describes as "the godless, liberal, left-wing atheists."
"If I thought there was truth to the rumor, I'd be first in line to out him," said Johnson, who agrees hypocritical public officials should be exposed.
"But after 15 years in a close-knit community where everybody knows everybody's business, to be that clandestine and never have anything said — it's just hard to imagine. I mean, if somebody has a fight and breaks up with their boyfriend or girlfriend, you know it the next day."