In March 1857, in one of the most controversial events preceding the American Civil War (1861-65), the U.S. Supreme Court issued its decision in the case of Dred Scott v. Sanford. The case had been brought before the court by Dred Scott, a slave who had lived with his owner in a free state before returning to the slave state of Missouri. Having failed to purchase his freedom, in 1846 Scott filed legal suit in St. Louis Circuit Court. Scott stood on solid legal ground, as Missouri precedent dating back to 1824 had held that slaves freed through prolonged residence in a free state would remain free when taken back to Missouri. The doctrine was known as "Once free, always free". Scott and his wife had resided for two years in free states and free territories, and his eldest daughter had been born on the Mississippi River, between a free state and a free territory.
Scott argued that his time spent in these locations entitled him to emancipation. In his decision, Chief Justice Roger B. Taney, a staunch supporter of slavery, disagreed: The court found that no black, free or slave, could claim U.S. citizenship, and therefore blacks were unable to petition the court for their freedom. The Dred Scott decision incensed abolitionists and heightened North-South tensions, which would erupt in war just three years later.
This convoluted case (1857), both a cause and an effect of sectional conflict, contributed to antebellum political and constitutional controversy. It also made Chief Justice Roger B. Taney seem a satanic figure to contemporary antislavery activists and many later historians.
Dred Scott, a black slave, and his wife had once belonged to army surgeon John Emerson, who had bought him from the Peter Blow family of St. Louis. After Emerson died, the Blows apparently helped Scott sue Emerson's widow for his freedom, but lost the case in state court. Because Mrs. Emerson left him with her brother John Sanford (misspelled Sandford in court papers), a New York citizen, Scott sued again in federal court, claiming Missouri citizenship. Scott's lawyers eventually appealed to the U.S. Supreme Court.
Originally, Justice Samuel Nelson was to write a narrow opinion, arguing that the case belonged in the state, not a federal court. But northern antislavery justices John McLean of Ohio and Benjamin R. Curtis of Massachusetts planned to dissent, arguing that Scott should be freed under the Missouri Compromise because he had traveled north of the 36°30′ line, whereas the Court's southerners wanted to rule the compromise unconstitutional. Among several opinions, Taney's was both the most important and the most tortuous. He ruled that blacks, slave or free, could not be citizens (Curtis showed this to be counter to precedent). Nor could Scott have become free by traveling north of the Missouri Compromise line; slavery, Taney said, could not be banned in the territories. Six justices agreed that Scott was not a citizen, but disagreed over whether a freed slave could become a citizen. Nelson concurred in the ruling but not in its reasoning, and McLean and Curtis dissented.
Prof. Carol Swain, who teaches political science at Vanderbilt University, noted that early Republican efforts to stop the spread of slavery was actually thwarted by the U.S. Supreme Court via Dred Scott v Sandford. The court, in a 7-2 decision, ruled he could not claim his freedom because slaves were property and could never be citizens under current provisions of law. In addition, the court ruled the Missouri Compromise – which declared all territories West of the state and north of latitude 36 degrees, 30', unconstitutional. Swain also noted that all seven justices who voted against Scott were Democrats, and that the two dissenting justices were Republicans.
President James Buchanan's supporters considered it a final answer to the sectional controversy, although they were unaware at the time that Buchanan had influenced Justice Robert Grier of Pennsylvania to join the southern majority so that it would look less like a sectional decision. The Dred Scott case remained the subject of noisy constitutional and historical debate and contributed to the divisions that helped lead to Abraham Lincoln's election and the Civil War.
---
Recommended Books: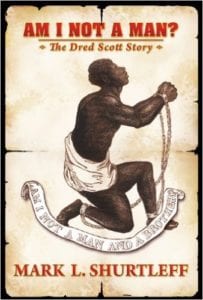 An illiterate slave, Dred Scott trusted in an all-white, slave-owning jury to declare him free. But after briefly experiencing the glory of freedom and manhood, a new state Supreme Court ordered the cold steel of the shackles to be closed again around his wrists and ankles. Falling to his knees, Dred cried, "Ain't I a man?" Dred answered his own question by rising and taking his fight to the U.S. Supreme Court.
Dred ultimately lost his epic battle when the Chief Justice declared that a black man was so inferior that he had "no rights a white man was bound to respect."
Dred died not knowing that his undying courage led directly to the election of President Abraham Lincoln and the emancipation proclamation.
Dred Scott's inspiring and compelling true story of adventure, courage, love, hatred, and friendship parallels the history of this nation from the long night of slavery to the narrow crack in the door that would ultimately lead to freedom and equality for all men.
---
Racial hatred is one of the ugliest of human emotions. And the United States not only once condoned it, it also mandated it?wove it right into the fabric of American jurisprudence. Federal and state governments legally suspended the free will of blacks for 150 years and then denied blacks equal protection of the law for another 150.
How did such crimes happen in America? How were the laws of the land, even the Constitution itself, twisted into repressive and oppressive legislation that denied people their inalienable rights?
Taking the Dred Scott case of 1957 as his shocking center, Judge Andrew P. Napolitano tells the story of how it happened and, through it, builds a damning case against American statesmen from Lincoln to Wilson, from FDR to JFK.
Born a slave in Virginia, Dred Scott sued for freedom based on the fact that he had lived in states and territories where slavery was illegal. The U.S. Supreme Court ruled against Scott, denied citizenship to blacks, and spawned more than a century of government-sponsored maltreatment that destroyed lives, suppressed freedom, and scarred our culture.
Dred Scott's Revenge is the story of America's long struggle to provide a new context?one in which "All men are created equal," and government really treats them so.
---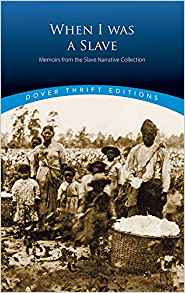 In an effort to provide unemployed writers with work during the Great Depression of the 1930s, the United States Government, through the Works Progress Administration (WPA), funded the Federal Writers' Project. One of the group's most noteworthy and enduring achievements was the Slave Narrative Collection, consisting of more than 2,000 transcripts of interviews with former slaves, who, in blunt, simple words, provided often-startling first-person accounts of their lives in bondage. This book reprints some of the most detailed and engrossing life histories in the collection. Each narrative is complete.
Thirty-four gripping testimonies are included, with all slave occupations represented — from field hand and cook to French tutor and seamstress. Personal treatment reported by these individuals also encompassed a wide range — from the most harsh and exploitative to living and working conditions that were intimate and benevolent.
An illuminating and unique source of information about life in the South before, during, and after the Civil War, these memoirs, most importantly, preserve the opinions and perspective of those who were enslaved. Invaluable to students, teachers, and specialists in Southern history, this compelling book will intrigue anyone interested in the African-American experience.
---
Americans tend to cast slavery as a pre-modern institution—the nation's original sin, perhaps, but isolated in time and divorced from America's later success. But to do so robs the millions who suffered in bondage of their full legacy. As historian Edward E. Baptist reveals in The Half Has Never Been Told, the expansion of slavery in the first eight decades after American independence drove the evolution and modernization of the United States. In the span of a single lifetime, the South grew from a narrow coastal strip of worn-out tobacco plantations to a continental cotton empire, and the United States grew into a modern, industrial, and capitalist economy. Told through intimate slave narratives, plantation records, newspapers, and the words of politicians, entrepreneurs, and escaped slaves, The Half Has Never Been Told offers a radical new interpretation of American history.