Body of former New York Times journalist, working for radio station in Afghanistan, found burned and mutilated inside a bag
Noor Ahmed Noori's body was found in a bag, mutilated and stabbed, on the side of a road in a suburb of Lashkar Gah, the provincial capital, according to news reports. His family said he had been abducted by armed men earlier that day and had been missing for nine hours, reports said.
Noori worked as the producer for two religious programs, "Membar" and "Mehrab," for Bost, a local radio broadcaster that reports on cultural, religious, entertainment, and social issues, according to Ahmad Shah Passon, a director at Bost. Noori had also worked in the past as a translator for The New York Times. He had not reported on anything controversial or sensitive, Passon told CPJ.
There are conflicting reports as to whether the 29-year-old journalist was threatened before his death. Noori's brother was cited in local reports as saying that the radio journalist had received threats in the months leading up to his death. Passon told CPJ that Noori was threatened several times, but that he did not tell his friends and colleagues and never elaborated on who threatened him or why.
Rod Nordland, the Times' Kabul bureau chief, told CPJ that Noori had not expressed any concern to friends or colleagues about threats related to his work for Bost or The New York Times.
No group had immediately claimed responsibility for the attack, reports said. Police in the area said they did not suspect insurgent involvement and that the manner of death was not typical of insurgent killings, Nordland told CPJ. The Times journalist added that Noori's wallet with money was found on his body, which ruled out robbery, leading his friends and police investigatorsto suspect a personally motivated killing.
Abdul Ahad Choopan, provincial police chief, told journalists that police were investigating the murder. A roadside bomb killed Abdul Hadi Hamdard, another Afghan journalist, in Helmand in 2012, but it was unclear if the bomb had been targeted at him.
---
Recommended Books: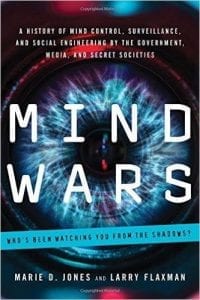 From the dawn of humanity, the desire to control the thoughts, behaviors, and actions of others has been a pervasive one. From the use of coercive persuasion by ancient Egyptians and the Knights Templar to today's claims of electronic harassment and microwave "bombing," we have always been at the mercy of those who wish to reprogram our thoughts and reshape our beliefs.
Mind Wars includes fascinating stories of:
Ancient attempts at mind control using spell casting, potions, and rituals.
Cults and the use of mental reprogramming.
More modern mind-control techniques, from hypnosis, drugs, and electroshock to radiation and psychic driving.
The inside story of the quest for a real Manchurian Candidate–MKUltra and the CIA connection.
The brave new world of electronic harassment, "voice to skull" technology, and gang-stalking.
The inner frontier of the human mind is the last bastion of privacy. But are we really in control of our own minds? The answer may shock you!
---
America is at war. But this not a conventional war waged with tanks, battleships and planes in conventional battlefields —at least not yet. It is a secret, insidious type of war whose battleground is the people's minds. Its main weapons are propaganda and mass brainwashing by disinformation, cunning, deception and lies in a large scale not used against the people of any nation since Nazi Germany. Though important, however, those elements are just part of a series of carefully planned and executed long and short-term psychological warfare operations. In synthesis, it is a psychological war —a PSYWAR. If an unfriendly foreign power had carried out against the American people the actions carried out by Wall Street bankers, Oil magnates and CEOs of transnational corporations entrenched at the Council on Foreign Relations and its parasite organizations, we might well have considered it an act of war. Unfortunately, most Americans ignore that they are under attack. The reason is because, like Ninja assassins, the main weapon used by the conspirators who have managed to infiltrate and take control of the U.S. Government and most of American life has been their invisibility. For almost a century, these small group of conspirators have been waging a quiet, non-declared war of attrition against the American people, and it seems that they are now ready for the final, decisive battle. Unfortunately, as the last two presidential elections showed, the brainwashed American people reacted by changing the puppets, leaving the puppet masters untouched and in control. In this book Servando Gonzalez studies in detail the origins of the conspiracy, who the conspirators are, the main elements of this PSYWAR and, what's more important, how we can fight back and win.