In a speech on September 30, 2011, at the transition or change-of-office ceremony of the Chairman of the Joint Chiefs of Staff at Fort Myer, Virginia, Obama referred to his wife not as Michelle but as Michael. As you can verify for yourself in the video above, Obama clearly said:
"Distinguished guests, men and women of the finest military in the world, most of all, Admiral Mullen, Deborah, Michael and I also want to acknowledge your son Jack who was deployed today, all of you have performed extraordinary service to our country…."

Note: Deborah is Admiral Mullen's wife.
The startling assertion only added to rumors that the former First Lady of the United States of America, known as Michelle Robinson Obama, is a biological male posing as a woman.
Bafflingly, even the text of the speech on WhiteHouse.gov says the same thing:

"Secretary Panetta, thank you for your introduction and for your extraordinary leadership. Members of Congress, Vice President Biden, members of the Joint Chiefs, service secretaries, distinguished guests, and men and women of the finest military in the world. Most of all, Admiral Mullen, Deborah, Michael and I also want to also acknowledge your son Jack, who's deployed today. All of you have performed extraordinary service to our country."


Admiral Mullen's first name is Michael. However, throughout his speech, Obama referred to Mullen as "Mike," not Michael.

Michelle's birth name was Michael?
Even before Obama's gaffe, there were bloggers who said Michelle's real (birth) name is Michael.
As an example, three months before Obama publicly referred to his wife as "Michael," blogger Matthew B. Glosser wrote on June 30, 2011 that he was contacted by "an anonymous source" who claimed to be a former White House staff member of the Obama administration, specifically "a former member of the First Lady's personal staff." The source claimed to have sensitive information regarding a stunning revelation about Michelle Obama and wanted to arrange a meeting with Glosser in person to present the evidence for this claim.
Though initially skeptical, Glosser nevertheless met with the "anonymous source" on June 25, 2011. The source said "the major alphabet networks … are in the tank for Obama and it is network policy to cover up any critical stories regarding the President and his family. The White House has officially created a State media." Then the source said the following about Michelle Obama:
Michelle Obama, First Lady of the United States, was born Michael LaVaughn Robinson in Chicago, Illinois on January 17th, 1964. He was the second son born to Fraser Robinson III, a well known cocaine dealer and union thug for Crime Lord/Mayor Richard J. Daley, and Marian Shields Robinson, a transient street prostitute who was diagnosed with the HIV virus in 1998. He [Michael] was a popular high school athlete and in 1982, he accepted a scholarship to play middle linebacker for the Oregon State Beavers.
After finishing a respectable rookie season with 88 tackles and 7.5 sacks, he suddenly dropped out of the school. Fellow teammates observed that Robinson could regularly be heard lamenting over how he is a "woman trapped inside a man's body," and on January 13th, 1983, he underwent sex reassignment surgery at Johns Hopkins University School of Medicine.To hide the shame of his new identity, Michael left Oregon State to attend Princeton University under his new legal name, "Michelle Robinson." Years later, he met Barry Obama Jr. a Kenyan immigrant who later became aware of "Michelle's" true identity. They subsequently married and adopted two children.
Writing for Examiner.com, Jan. 11, 2014, Dean Chambers says: "I have been unable to find any proof that a Michael LaVaughn Robinson even existed, and there is reasonable proof that Michelle LaVaughn Robinson (later Obama after marriage) has existed. Furthermore, there is no proof of a Michael Robinson playing linebacker for the Oregon State Beavers in 1981 or 1982."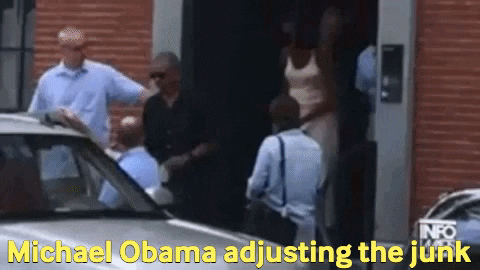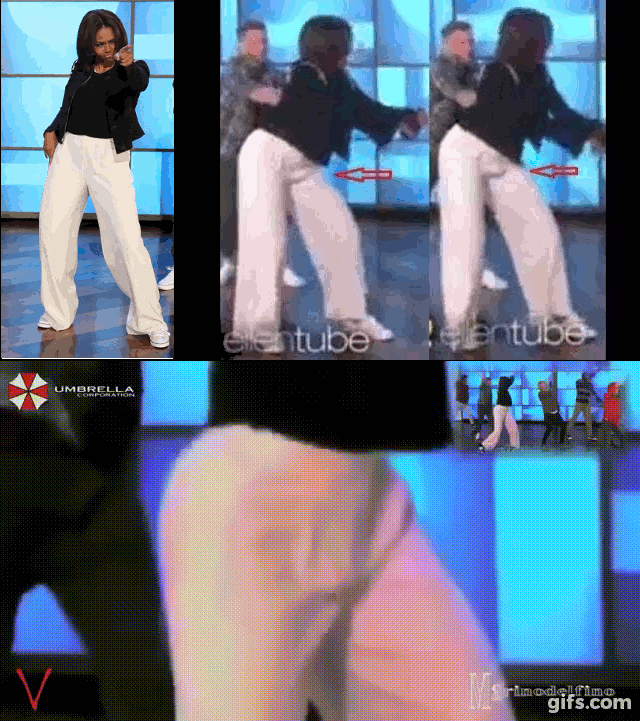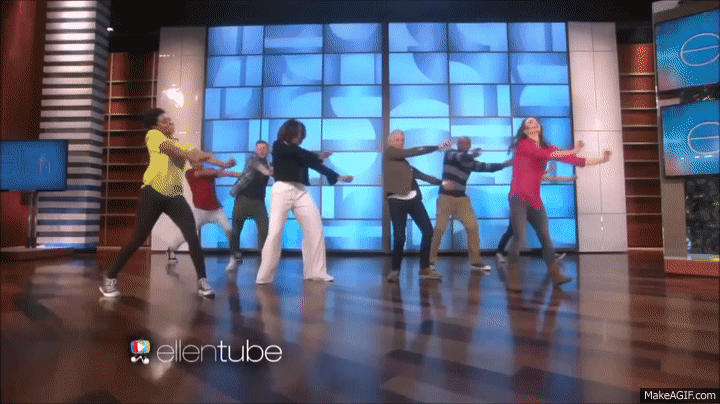 On July 3, 2014, after officiating at a wedding of two homosexuals in New York, comedienne Joan Rivers was asked by an off-camera reporter: "Do you think the country … United States will see the first gay president or first woman president?"
This is what Joan Rivers said, sounding weary and definitely not in a joking mood:
"We already have [the first gay president] with Obama, so let's just calm down. You know Michelle is a tranny… a transgender. We all know."
Two months to the day of Joan Rivers' outing of the Obamas, she was declared dead after she had stopped breathing during a routine endoscopy in a clinic.
A fascinating video systematically argues that physical traits, including Michelle's fingers, shoulders, neck muscles, head-to-body ratio and trace of an Adam's apple, all point to her being a biological male.
March 14, 2019 – Barack Obama's half brother, Malik, took to Twitter on March 14, 2019 to ask if Michelle is actually "Michael". "Is Michelle Michael?"
"Since the early days of the Obama administration, citizens across the board have studied videos and photos of Michelle Obama and said that she is a man," Alex Jones claims. "And even [Barack] Obama has called her over and over again Michael. But new shock footage has emerged that is being censored off the internet as fast as you can upload it."
If this is true, it certainly would explain why we've seen no pictures of a pregnant Michelle, nor has anyone found birth records of "her" two daughters. See "Where are Obama's daughters' baby pics and birth records?" and "Michelle Obama admits daughters Malia and Sasha were conceived by IVF".
Sources: