PayPal (NASDAQ: PYPL) had a terrible five-day stretch, and a worse 14-month stretch, for public relations and financial wherewithal. Things are about to get worse as the company's lies and contradictions are exposed publicly.
PayPal claims it accidentally published updates to its "Acceptable Use Policy" (AUP). Said changes were to take effect on November 3, 2022. Reddit users got ahold of the document; and it went viral Friday (Oct 7, 2022). The updated policy states on the first two pages:
"Violation of this Acceptable Use Policy constitutes a violation of the PayPal User Agreement and may subject you to damages, including liquidated damages of $2,500.00 U.S. dollars per violation, which may be debited directly from your PayPal account(s) as outlined in the User Agreement."
The AUP "violation" that caused the uproar reads that any person who engages in "sending, posting, or publication of any messages, content, or materials that, in PayPal's sole discretion…promote(s) misinformation," can lose $2,500 per violation, directly from their PayPal account.
Hashtags like #CancelPayPal, #DeletePayPal, #GoWokeGoBroke, and others have been trending on social media since Friday. Tens of thousands of PayPal users have posted screenshots confirming that they closed their accounts with the company. Several mainstream media outlets have published articles providing specific instructions on how to cancel your PayPal account. It got so bad that PayPal stopped allowing users to cancel their accounts online since Saturday evening, October 8.
David Marcus is the former President of PayPal. Elon Musk was one of the top investors and former CEO of the X.com/Confinity company that eventually became PayPal. They, and many other prominent voices, denounced the new policy.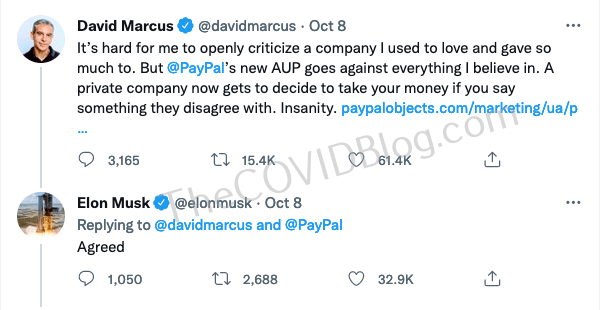 PayPal stock is down 12% since October 6 (as of publishing) when the new policy first started circulating. But the company has been inching towards bankruptcy since August 2021. PayPal Holdings, Inc. was $308.53 per share on July 23, 2021. But the company announced partnerships with both the Anti-Defamation League (ADL) and Google to help de-platform "extremists" that same month.
Mainstream media were also putting pressure on big tech to de-platform and censor critical thinkers like myself that month. Thus PayPal stock is down 73% (and still dropping) in the 14 months since it teamed up with Google and vaxx zealot organizations to stifle free speech.
An unnamed PayPal spokesperson told several news outlets yesterday that the new policy "went out in error." The spokesperson further stated:
"PayPal is not fining people for misinformation and this language was never intended to be inserted in our policy. We're sorry for the confusion this has caused."
PayPal, however, is flat-out lying. The company is in fact arbitrarily "fining" users $2,500 per "misinformation" violation. Even with the walk-back on the November 3, 2022 updates, the company's current User Agreement and Acceptable Use Policy allows PayPal, at its sole discretion, to determine anything it wants to be "misinformation" and take your money.
PayPal says I owe them $380,000 for "spreading misinformation." The arbitration is ongoing; and I'm representing myself. The entire process is a farcical clown show, and literally puts on display the god-like complex of PayPal, its attorneys, and its arbitrators.
Background on Wilkins vs. PayPal and the Notice of Claim
PayPal, voluntarily and on its own volition, de-platformed The COVID Blog™ on August 9, 2021. We wrote about it that day. PayPal provided no reason for terminating the business relationship. But we obviously knew why they did it. Anyone who speaks truth and displays critical thinking skills regarding the lethal injections and those ridiculous masks, gets de-platformed by big tech.
But since I was expecting the ban, it was no big deal. PayPal, however, continued filling my email inboxes daily with spam messages like "Your payment didn't go through" and "You can't have your money." I replied to two of those emails, demanding that PayPal stop spamming us since they terminated our business relationship. The spam continued. I then logged into the PayPal system and, pursuant to their Electronic Communications Delivery Policy, wrote them an internal email that demanded they stop spamming us or face a lawsuit. The spam emails continued.
It was only after I serve a Notice of Claim on PayPal, Inc. in Glendale, California that the spam emails finally stopped (at least temporarily). But now I was demanding damages of over $100,000 for breach of contract and violations of California Business & Professions Code § 17529 et seq. PayPal is a Delaware corporation with its principal place of business in San Jose, California.
The first lawyer PayPal sent to attack me was some clown named V.R. Bohman, from a giant law firm called Snell & Wilmer.