One year ago, I resigned from NBC News because they ordered me to stop reporting on Harvey Weinstein, and I did not believe that they had been truthful with me or Ronan Farrow, the correspondent with whom I worked for almost a year on what would become one of the defining stories of our time. I felt a responsibility to speak up, and I thought that going on the record might shed some light on what was, as I told the New York Times, a "massive breach of journalistic integrity."
In response, NBC told the Times that "the assertion that NBC News tried to kill the Weinstein story" was "an outright lie." Andy Lack, the chairman of news, issued an 11-page memo dismissing it as "unfounded intimations and accusations." Noah Oppenheim, the president of news, said that I was "never told to stop in the way he's implying."
But as I witnessed firsthand during the year I spent at NBC News after Ronan published our reporting in the New Yorker—and as Ronan has further documented in his forthcoming book, Catch and Kill—Lack and Oppenheim were the ones who were lying. They not only personally intervened to shut down our investigation of Weinstein, they even refused to allow me to follow up on our work after Weinstein's history of sexual assault became front-page news. As the record shows, they behaved more like members of Weinstein's PR team than the journalists they claim to be. Thanks to them, a leading national news organization, in broad daylight and with zero remorse, abdicated its single greatest responsibility—to relentlessly pursue and tell the truth.
Oppenheim is the one, ironically, who kicked off our reporting on Weinstein. He suggested we interview Rose McGowan, who told us that Weinstein had sexually assaulted her at the Sundance Film Festival in 1997. After months of reporting, we also obtained the now-infamous audio from an NYPD sting operation in which Weinstein admitted to sexually assaulting a model and aspiring actor named Ambra Gutierrez. We played the recording for Rich Greenberg, the head of the investigative unit at NBC News. "If this airs, he's toast," he told us.
But the more reporting we gathered, the more nervous the network got. They began raising a range of strange and convoluted concerns about our work. Maybe Ronan had a conflict of interest, they argued, because his father, Woody Allen, had helped Weinstein's career nearly 30 years earlier. Or maybe we were engaging in what is known as "tortious interference" by speaking to women who had signed nondisclosure agreements with Weinstein. Time after time, despite the fact that our reporting had been vetted and cleared by NBC's lawyers, they ordered us to "pause" our reporting so they could "wrap our arms around this thing." Sensing that our bosses were getting cold feet, Ronan and I agreed that he should quietly approach the New Yorker about publishing the story, in case NBC wound up shutting us down.
Then, on August 18, 2017, eight months after Ronan and I began our investigation—and one day before we were to head to Los Angeles to interview a woman with a credible allegation of sexual assault against Weinstein—I was called in to meet with Greenberg. "Noah was very, very clear," he told me. "No further calls. You are to stand down."
An order from the president of NBC News doesn't get much clearer than that. It was four o'clock in the afternoon. I went back to my desk, furious. I wrote an email to myself, documenting what I had just been told, and copied Ronan.
A week later, I pitched Greenberg on another story I had uncovered about Weinstein. AmFAR, one of the world's most powerful charities, had apparently funneled $600,000 to a theater that reimbursed Weinstein for a failed production of Finding Neverland. Although Oppenheim claims he was not involved in the decision-making over the story, Greenberg told me at the time that he would need to get Oppenheim's approval before moving forward. He then told me that approval had been granted—but only because it was unrelated to the Weinstein investigation that Oppenheim had halted.
On September 23, the morning after I filed my first draft of the story, the New York Times beat us to the punch by reporting on the $600,000 payment. I let Greenberg know that I had just received a host of new documents that contained new revelations about the transaction. "This is significant," he agreed. I revised my story to incorporate the new reporting and filed the updated piece on the morning of September 26. The story went through several edits and was vetted and approved by NBC's legal team. That evening, I drew up a list of 10 questions for Weinstein, and Greenberg said he would handle getting comment from him in the morning.
And then—silence. The following afternoon, when my story had still not been published on the NBC News site, I reached out to my editor. "Not sure how to tell you this, Rich," he said. "But we're holding the story."
At first I thought he was joking. I called Greenberg, who now told me that he believed the story didn't advance what the Times had already reported.
"Whaddyaknow," I messaged Ronan. "They are killing my story."
"I'm 'shocked,'" he replied.
Things got even stranger from there. Two days later, I got another text from Ronan. He had just been disinvited from the set of the Today show, where he had been scheduled to discuss a story we had prepared on the opioids crisis. He messaged me that his agent had heard directly from Weinstein.
---
Fox News host Tucker Carlson spoke with ex-NBC producer Rich McHugh on how NBC News chairman Andy Lack and NBC News president Noah Oppenheim allegedly shut down Ronan Farrow's story exposing Harvey Weinstein.
Get the book: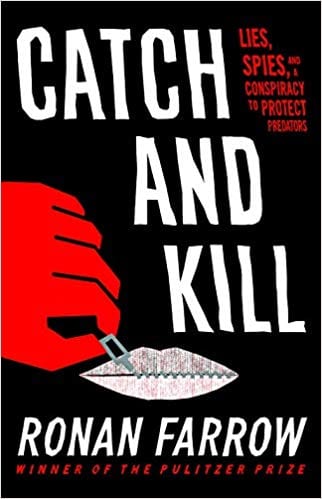 In this instant New York Times bestselling account of violence and espionage, Pulitzer Prize-winning investigative reporter Ronan Farrow exposes serial abusers and a cabal of powerful interests hell-bent on covering up the truth, at any cost.
In 2017, a routine network television investigation led Ronan Farrow to a story only whispered about: one of
Hollywood
's most powerful producers was a predator, protected by
fear
, wealth, and a
conspiracy of silence
. As Farrow drew closer to the truth, shadowy operatives, from high-priced lawyers to
elite
war
-hardened spies, mounted a secret campaign of intimidation, threatening his career, following his every move, and weaponizing an account of abuse in his own family.
All the while, Farrow and his producer faced a degree of resistance they could not explain — until now. And a trail of clues revealed corruption and cover-ups from
Hollywood
to
Washington
and beyond.
This is the untold story of the exotic tactics of
surveillance
and intimidation deployed by wealthy and connected men to threaten journalists, evade accountability, and silence victims of abuse. And it's the story of the women who risked everything to expose the truth and spark a global movement.
Both a spy thriller and a meticulous work of investigative journalism,
Catch and Kill
breaks devastating new stories about the rampant abuse of power and sheds far-reaching light on investigations that shook our culture.