According to the Daily Mail, NHS colleagues reported Tracey McCallum to bosses at Crosshouse Hospital in Ayrshire, Scotland, after she turned a whistleblower over pandemic, vaccine and face mask lies and misinformation. She is now suspended from working as a nurse.
The Daily Mail also noted that NHS staff are quietly mounting a revolt reporting that:
"It comes as membership for an 'anti-vaxxer' NHS group that compared the Pfizer jab to 'poison' doubled overnight."
What especially drew the ire of her NHS bosses was this post on social media (below):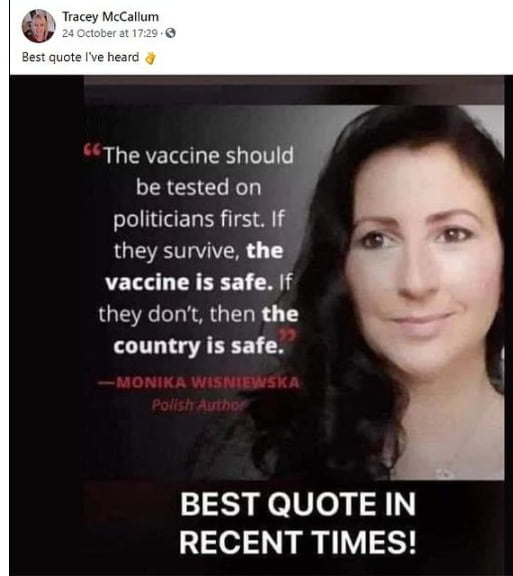 Ms McCallum, who has worked for the NHS for 20 years, was suspended earlier this month after being off sick for weeks with work-related stress.
But she said she has spent hours doing her own research and has shared it in among a 34,000-strong group of fellow nurses.
The Daily Mail story adds:
" NHS workers appearing to be flocking to 'anti-vaxxer' groups on social media, with one doubling in size overnight. NHS Workers for Choice, No Restrictions for Declining a Vaccine went from 250 members yesterday to more than 500.

Accounts in the group have compared the Pfizer jab to 'poison', opposed the wearing of masks and railed against testing in hospitals. The group is reported to include Sheffield-based GP Julie Coffey – who has said she will not wear masks in shops – A&E nurses, healthcare assistants and lab workers."
Posting avidly on social media, Ms McCallum has gained a large following by stating, among other things, that the government:
' will increase hospital admissions and deaths and keep this scamdemic going forever.

'Management everywhere are bullies and control us. Its all a game to see who can be the most sadistic.'

Another post claimed: 'I believe the NHS is as corrupt as the Government.'

While one more added: 'More people are waking up from the lie since birth. Tyranny! Genocide! Treason!

'The world is going to be a better brighter place when we all move from the dark side.'

Ms McCallum has since stood by her comments and claimed she was targeted by top brass for asking 'too many questions'.
The nurse also backs Donald Trump's claim hydroxychloroquine was the way to beat the