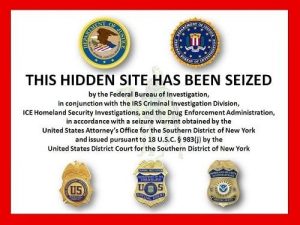 Since its creation in early 2011, Silk Road had been operating as a dark web marketplace for sometimes illegal drugs. And given the site's wares, it's understandable that the FBI had been tracking its operations very closely. Agent Chris Tarbell, in particular, had been searching for the identity of the mysterious "Dread Pirate Roberts," and when he found the IP address that seemed to suggest the location of the site's founder, the authorities swooped in. In October 2013, in a dramatic snatch, FBI agents arrested Roberts – a.k.a. Ross Ulbricht – with his laptop open in a San Francisco library. Silk Road itself, meanwhile, was seized by the agency and shut down. And that closure seemingly had an effect on the value of Bitcoin – the currency fell from a little under $146 to just below $110 when the news of Silk Road's fate emerged.
Although it was an extremely complex case, on February 4, 2015 a jury delivered a guilty verdict of seven counts in a mere three hours.
On May 29, Ross was sentenced to five of those counts (#2, 4, 5, 6, 7). Two counts were ultimately removed dueto the duplication of Counts 1 with 2, and also Counts 3 with 4. However, the jury was told he was guilty of all seven counts. The defense argued that Count 2 should be dismissed as also subsumed within Count 4, but was denied.
Accordingly, Ross was sentenced on the remaining Counts. He received the maximum for each Count, with each to run concurrently to the others: Count Two (life), Count 4 (life), Count 5 (5 years), Count 6 (15 years) and Count 7 (20 years). Because of the concurrent nature, this is equivalent to three life sentences.
None of the charges accused Ross of selling an illegal substance; laundering money; hacking into a computer; or selling fake IDs; or directly harming any person or property. Rather the charge is that he created and ran a website that permitted these actions. The charges are all non-violent and Ross has no prior offenses.
Ross now resides at the Metropolitan Correctional Center in Manhattan, New York. He is appealing the trial and sentencing.
https://www.youtube.com/watch?v=F1Ka0MDu9mE