The world's media has reported that many of the so-called hijackers "fingered" by the FBI are still alive. For example the BBC (British Broadcasting Cooperation) carried this report: Hijack "suspects" alive and well.
Abdul Aziz Al-Omari (Flight 11) (Trained Pilot)
The identities of two men with the same name have been cobbled together to create an FBI "terrorist". Both are Alive!
The first has the same name, the same birth date as one of the FBI "terrorists" but has no idea how to fly.
The second has the name Abdul Rahman Al-Omari and a different birth date, but is the person pictured by the FBI and is a pilot for Saudi Arabian Airlines.
Here are some quotes from the world's media concerning them.
Omari Number 1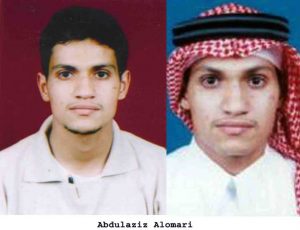 "A Saudi man has reported to authorities that he is the real Abdul Aziz Al-Omari, and claims his passport was stolen in 1995 while he studied electrical engineering at the University of Denver. Al-Omari says he informed police of the theft." –ABCNews
"I couldn't believe it when the FBI put me on their list. They gave my name and my date of birth, but I am not a suicide bomber. I am here. I am alive. I have no idea how to fly a plane. I had nothing to do with this." – Telegraph 23rd September 2001
"The name (listed by the FBI) is my name and the birth date is the same as mine, but I am not the one who bombed the World Trade Center in New York," Abdul Aziz Al-Omari told the London-based Asharq Al-Awsat newspaper.
"Al-Omari has since been found in Saudi Arabia and is apparently cleared in the case" – New York Times
"Saudi Embassy officials in Washington have challenged his identity. They say a Saudi electrical engineer named Abdul Aziz Al-Omari had his passport and other papers stolen in 1996 in Denver when he was a student and reported the theft to police there at the time." – BBC
"Abdel Aziz Al-Omari and Saïd Hussein Gharamallah Al-Ghamdi, are well in life, the first in Saudi Arabia and the second in Tunisia for nine months." – Wal Fadjri 21st September 2001 (translate)
Omari Number 2
Mr. Al-Omari, a pilot with Saudi Airlines, walked into the US embassy in Jeddah to demand why he was being reported as a dead hijacker in the American media.
"Abdul Aziz Al-Omari is a pilot for Saudi Arabian Airlines" – BBC 23rd September 2001
"A pilot with Saudi Airlines, was astonished to find himself accused of hijacking ­ as well as being dead ­ and has visited the US consulate in Jeddah to demand an explanation." – Independent 17th September 2001
This Al-Omari lives with his wife and four children in Jeddah, Saudi Arabia.
Saeed Al-Ghamdi (Flight 93) (Trained Pilot)
"Saeed Al-Ghamdi is one of three hijackers that US officials have said are linked to Osama bin Laden's al-Qaida network." – BBC
No BBC! Mr. Al-Ghamdi is still alive and well and at his job for Tunis Air.
"I was completely shocked. For the past 10 months I have been based in Tunis with 22 other pilots learning to fly an Airbus 320. The FBI provided no evidence of my presumed involvement in the attacks." – Telegraph 23rd September 2001
"Asharq Al Awsat newspaper, a London-based Arabic daily, says it has interviewed Saeed Al-Ghamdi." – BBC 23rd September 2001
"Abdel Aziz Al-Omari and Saïd Hussein Gharamallah Al-Ghamdi, are well in life, the first in Saudi Arabia and the second in Tunisia for nine months." – Wal Fadjri 21st September 2001 (translate)
"….. not dead and had nothing to do with the heinous terror attacks in New York and Washington." – Saudi embassy
Waleed Al-Shehri (Flight 11) (Trained Pilot)
"A sixth person on the FBI's list, Saudi national Waleed Al-Shehri, is living in Casablanca, according to an official with the Royal Air Moroc, the Moroccan commercial airline. According to the unnamed official, Al-Shehri lived in Dayton Beach, Fla., where he took flight training at Embry-Riddle Aeronautical University. Now he works for a Moroccan airline." On Sept. 22, Associated Press reported that Alshehri had spoken to the U.S. embassy in Morocco.
"His photograph was released by the FBI, and has been shown in newspapers and on television around the world. That same Mr Al-Shehri has turned up in Morocco, proving clearly that he was not a member of the suicide attack." – Daily Trust 24th September 2001.
"He was reported to have been in Hollywood, Florida, for a month earlier this year but his father, Ahmed, said that Waleed was alive and well and living in Morocco." – Telegraph
"Another of the men named by the FBI as a hijacker in the suicide attacks on Washington and New York has turned up alive and well." – BBC 23rd September 2001.
Ahmed Al-Nami (Flight 93)
"I'm still alive, as you can see. I was shocked to see my name mentioned by the American Justice Department. I had never even heard of Pennsylvania where the plane I was supposed to have hijacked." He had never lost his passport and found it "very worrying" that his identity appeared to have been "stolen" and published by the FBI without any checks. The FBI had said his "possible residence" was Delray Beach in Florida." – Telegraph 23rd September 2001
Salem Al-Hazmi (Flight 77)
"Mr Al-Hamzi is 26 and had just returned to work at a petrochemical complex in the industrial eastern city of Yanbou after a holiday in Saudi Arabia when the hijackers struck. He was accused of hijacking the American Airlines Flight 77 that hit the Pentagon." – Telegraph 23rd September 2001.
Khalid Al-Mihdhar (Flight 77)
"Saudi officials at the embassy were unable to verify the whereabouts of the fifth accused hijacker, Khalid Al-Mihdhar. However, Arab newspapers say Al-Mihdhar is still alive.
"….. there are suggestions that another suspect, Khalid Al Midhar may also be alive." – BBC 23rd September 2001
Others accused of being involved:
Ameer Bukhari "Ameer Bukhari died in a small plane crash last year." – CNN Correction
Adnan Bukhari "Adnan Bukhari is still in Florida" – CNN Correction
Even after the above has appeared in the world's media the FBI made no attempt to alter its websites which clearly list the wrong names, wrong photos, wrong identities and probably wrong nationalities of the real hijackers. And mainstream media continued to show the same pictures and echo the same rhetoric about these same patsies as the hijackers.
Given that the hijackers (if there were any) were clearly using false identities, why has the FBI never attempted to find out the hijackers true identities? Why does the FBI seem totally disinterested in apprehending the real culprits? This lack of action from one of our "trusted" government departments is very close to treason.
In February of 2000, Indian intelligence officials detained 11 members of what they thought was an Al Qaeda hijacking conspiracy. It was then discovered that these 11 "Muslim preachers" were all Israeli nationals! India's leading weekly magazine, The Week, reported:
"On January 12, Indian intelligence officials in Calcutta detained 11 foreign nationals for interrogation before they were to board a Dhaka-bound Bangladesh Biman flight. They were detained on suspicion of being hijackers. 'But we realized they were tabliqis, so we let them go' said an intelligence official.

"The eleven has Israeli passports but were believed to be Afghan nationals who had spent a while in Iran. Indian intelligence officials, too, were surprised by the nationality profile of the eleven. 'They say they have been on tabligh in Indian for two months. But they are Israeli nationals from the West Bank,' said a Central Intelligence official. He claimed that Tel Aviv 'exerted considerable pressure' on Delhi to secure their release. 'It appeared that they could be working for a sensitive organization in Israel and were on a mission to Bangladesh,' the official said.
What were these 11 Israeli nationals doing trying to impersonate Al Qaeda men? Infiltrating? Perhaps. Framing? More likely. But the important precedent to understand is this: Israeli agents were once caught red handed impersonating Muslim hijackers!
This event becomes even more mind boggling when we learn that it was Indian Intelligence that helped the US to so quickly identify the "19 hijackers"! On April 3, 2002, Express India, quoting the Press Trust of India, revealed:
"Washington, April 3: Indian intelligence agencies helped the US to identify the hijackers who carried out the deadly September 11 terrorist attacks in New York and Washington, a media report said here Wednesday."
Did you catch that? The Indian intelligence officials who were duped into mistaking Israeli agents for Al Qaeda back in 2000, were the very same clowns telling the FBI who it was that hijacked the 9-11 planes! Keep in mind that Indian intelligence has an extremely close working relationship with Israel's Mossad because both governments hate the Muslim nation of Pakistan.
Now about Mohamed Atta … the so-called "ring leader". There are a number of inconsistencies with that story as well. Like some of the 7 hijackers known to be still alive, Atta also had his passport stolen in 1999, (perhaps the same passport that miraculously survived the WTC explosion and collapse?), making him an easy mark for identity theft. Atta was known to all as a shy, timid and sheltered young man who was uncomfortable with women. The 5 foot 7 inch, 150 pound architecture student was such a "goody two shoes" that some of his university acquaintances in Germany refrained from drinking or cursing in front of him. How this gentle, non-political momma's boy from a good Egyptian family suddenly transformed himself into the vodka drinking, go-go girl groping terrorist animal described by the media, has to rank as the greatest personality change since another classic work of fiction, Dr Jekyll and Mr Hyde.
Atta, or someone using Atta's identity, had enrolled in a Florida flight school in 2001 and then broke off training, making it a point to tell his instructor he was leaving for Boston, In an October 2001 interview with an ABC affiliate in Florida, flight school president Rudi Dekkers said that his course does not qualify pilots to fly jumbo jets. He also described Atta as "an asshole" Part of the reason for Dekker's dislike for Atta stems from a highly unusual incident that occurred at the beginning of the course. Here's the exchange between ABC producer Quentin McDermott and Dekkers:
MCDERMOTT: "Why do you say Atta was an asshole?"

DEKKERS: "Well, when Atta was here and I saw his face on several occasions in the building, then I know that they're regular students and then I try to talk to them, it's a kind of PR – where are you from? I tried to communicate with him. I found out from my people that he lived in Hamburg and he spoke German so one of the days that I saw him, I speak German myself, I'm a Dutch citizen, and I started in the morning telling him in German, "Good morning. How are you? How do you like the coffee? Are you happy here?", and he looked at me with cold eyes, didn't react at all and walked away. That was one of my first meetings I had."
That is easily similar to the way in which Zacharias Moussaoui (the so- called "20th hijacker") became "belligerent" when his Minnesota flight instructor tried to speak to him in French (his first language) at the beginning of that course. The Minnesota Star Tribune reported on December 21, 2001:
"Moussaoui first raised eyebrows when, during a simple introductory exchange, he said he was from France, but then didn't seem to understand when the instructor spoke French to him. Moussaoui then became belligerent and evasive about his background, Congressman Oberstar and other sources said. In addition, he seemed inept at basic flying procedures, while seeking expensive training on an advanced commercial jet simulator."
It truly is an amazing twist of fate that both Atta and Moussaoui had American flight instructors who spoke German and French respectively. Even the great Mossad could not have foreseen such a coincidence! The real Atta would have been able to respond to his instructor's German small talk and the real Moussaoui would have been able to respond to his instructor's French small talk. Atta just walked away and Moussaoui threw a fit! Neither responded because neither could. They were impostors, whose faces were probably disguised by a make up artist. Their mission was to frame the two innocent Arabs who were probably targeted by the Mossad at random.
The imposter was able to create a new Atta by using Atta's stolen passport from 1999 – the same passport that floated safely to the ground with a few burnt edges on 9-11. These strange inconsistencies tend to give support to Mohammed Atta's father's claim that he spoke over the phone with his son on September 12th, the day after the attacks. Could a group of professionals have abducted and killed the real Atta in the days following the 9-11 attacks? Mossad agents, posing as "art students" were arrested after conducting some kind of operation in Hollywood, Florida, the same town that Atta stayed in! So what happened to the real Mohammed Atta? To quote his grief stricken father: "Ask Mossad!"
If not these patsies, then who was flying the 'hijacked' planes on 9/11?
Sometime during 2012, when the late 9/11 researcher, author, and veteran Boeing 757 and 767 pilot Philip Marshall was contacted by a few of his old CIA colleagues from his days as a contract pilot for "the Company," little did he realize what secrets would await him at an isolated aerodrome in the Arizona desert known as the Pinal Air Park.
The combination of the Carlyle Group, the CIA, drone aircraft capabilities, civilian jet aircraft, and the fact that 9/11 author and pilot Phil Marshall may have paid with his and his family's lives for having this and possibly additional information about these connections certainly calls for a re-examination of the circumstances behind the 9/11 attacks and a new investigation by the state of California and the FBI into the death of Marshall and his two children in January 2013.
If it were not for the fact that sprouting like Arizona cacti from the desert base of Pinal Air Park are the large fuselages and tails of hundreds of passenger jumbo jets, passers-by on Interstate 10 between Phoenix and Tucson would miss the site that has hosted the CIA's fleet of private planes and proprietary airline companies over some six decades.
Not always a magnet for curious tourists, Marana was once a training field for U.S. Army Air Force, U.S. Air Force, and Nationalist Chinese pilots during World War II and immediately afterward. During the Korean War, Darr Aviation trained student pilots for the U.S. Air Force. In the 1950s, Marana was used by the CIA's Special Activities Division to test the Fulton Skyhook, a surface-to-air harness recovery system used to extract agents from hostile locations.
Popularly known as the "boneyard" for civilian aircraft, Pinal or Marana also figures prominently in the events of 9/11. When this author attended Phil Marshall's funeral in Mandeville, Louisiana in March 2013, a member of his family pulled me aside and confided, "If you want to know what Phil was working on before he died, the answers will be found in Marana, Arizona."
The Calaveras County, California Sheriff contended that Marshall, in a bipolar rage influenced by pain killers and alcohol, of shooting to death his teenage son and daughter, the family dog, and himself in their family home in Murphys, California at the end of January 2013.
An FBI agent also confided to WMR that Marshall was peering into the pre-9/11 activities surrounding Pinal Air Park and its major CIA proprietary operator at the time, Evergreen Aviation.
A special investigation by WMR resulted in a different conclusion than that arrived at by a hasty Calaveras County Sheriff's Department. Marshall, during a trip to Marana in 2012, met some old CIA pilot friends from the early 1980s. In those days, Marshall flew CIA drug running pilot-turned-Drug Enforcement Administration informant Barry Seal to places like Central America and Mena, Arkansas. Marshall was said by his friends and family to have been given some "smoking gun" information on the role that Marana played in the 9/11 attacks.
Marshall, a veteran United Airlines pilot with 15,000 hours in the cockpits of Boeing 757s and Boeing 767s, the two aircraft types allegedly involved in destroying the World Trade Center twin towers, the west side of the Pentagon, and plunging into a field in Pennsylvania, wrote two books — False Flag 911: How Bush, Cheney and the Saudis Created the Post-911 World and The Big Bamboozle: 9/11 and the War on Terror — doubting the official 9/11 Commission report that claimed that 19 Arab flight students, with only rudimentary training, were able to maneuver heavy jet planes in a manner that even seasoned pilots like Marshall said was virtually impossible. Impossible, perhaps, for human pilots but possibly not for special hybrid aircraft, fabricated to resemble commercial planes, painted with United and American logos and colors, and topped off with drone technology.
But where could such aircraft be produced without anyone's suspicions being raised? Ever since 1948, when the U.S. Government turned the Marana field back to Pinal County, the CIA has maintained a presence there. Originally built by Sun City developer; Poston, Arizona Japanese-American relocation center builder; and former New York Yankees owner Del Webb in 1942, the airfield trained 10,000 pilots during World War II. Dinah Shore entertained the trainee pilots during a USO tour.
After the war, Pinal County leased Marana back to Sonoran Flight Services, which was contracted to the U.S. Forest Service to fight forest fires. However, the airfield soon gained the attention of the newly-inaugurated CIA, which piggybacked on the Forest Service contract to begin operating CIA proprietary airline companies from the location much prized for its remoteness. A fairly old massive pile of dirt located outside the main gate of Pinal Air Park is said to be the soil excavated for a massive tunnel system installed under the base by the CIA.
George Doole, the CIA's guru on establishing proprietary aviation companies, decided that Marana was the best place to center the operations of a number of famous and infamous spook airline outfits, including Civil Air Transport, Atlantic General Enterprise, Air America, Southern Air Transport, Intermountain Aviation (for which Phil Marshall flew in the early 1980s), Continental Air Services (part of Continental Airlines that supported CIA and U.S. military operations in Southeast Asia), and, finally, Evergreen Trade. The latter is a diversified company started by Del Smith that is involved in everything from chemical spraying for weather modification to growing Christmas trees and operating a vineyard. Its aviation arm, Evergreen Aviation, for years operated Pinal Air Park for the CIA as a major center for maintaining and refurbishing aircraft for special operations.
Those "special operations," as Phil Marshall was undoubtedly aware from his days as a pilot for DEA-informant Barry Seal, included narcotics smuggling, for which Air America and Southern Air Transport were the most infamous. To this day, incoming planes at Pinal are subjected to rigorous inspections by U.S. Customs and Agriculture Department agents for contraband and invasive plant, insect, and animal species.
In the 1990s, Pinal Air Park was used by the Department of the Treasury as a Federal Law Enforcement Training Center (FLETC) to train special agents, including Secret Service agents, in motor vehicle protective driving techniques and firearms use.
According to Pinal Air Park sources, in the months before and just after 9/11, the facility was the home to over 200 commercial aircraft, the highest number than during any other recent time. While many airlines send their aircraft to Pinal for quick maintenance, other companies either send planes to the facility for long term storage or pull planes from long term storage for extensive overhaul and a return to service. Planes stored at Pinal are either destined for the scrap yard or storage for future use. A number of Delta Airlines planes are currently parked at Pinal with a number destined for the scrap yard after their parts are cannibalized. A Turkmenistan Airlines Boeing 717 was at Pinal long enough for some quick maintenance before it was returned to active service. Currently, an Air Jamaica Boeing 757 is at Pinal undergoing similar maintenance. Not so fortunate is a EuroAtlantic Airways Boeing 747 charter plane that is so weathered, its final destination will be a scrap yard.
A similar boneyard and maintenance-to-storage, storage-to-scrap, and storage-to-maintenance/full operations facility for military aircraft exists at Davis-Monthan Air Force Base to the wets of Tucson. WMR discovered that there is a degree of coordination between the military boneyard at Davis-Monthan and the civilian one at Pinal Air Park.
Pinal not only has the capability to maintain aircraft but, according to a source familiar with the operations at the facility, it can manufacture aircraft from the cannibalized parts from other planes. In addition, the facility can fabricate new parts for special purposes. WMR learned that Pinal has the capability to enable large planes to be remotely operated. WMR can report that it was this capability at Pinal that attracted airline captain Marshall's attention and was to be a central part of this third book on 9/11. After his death, the computer hard disk containing the manuscript for Marshall's third book was removed from his residence in Murphys and was reportedly sent to the technical lab of the California Department of Justice in Sacramento for "analysis." Neither it nor the manuscript contained on it have ever surfaced.
The intrigue does not stop there. In 2012, when Marshall visited Pinal and spoke to his contacts, Evergreen was in negotiations to sell its facility as part of the Pinal Air Park was slated for return to county control and development as a general aviation airport. Eventually, a company based in Rosslyn, in Arlington County, Virginia, Relativity, LLC, negotiated with Evergreen for the sale of the maintenance and storage facility at Pinal. Relativity then changed the name of the facility at Pinal from Evergreen to Marana Aerospace Solutions. Marana Aerospace dropped the armed guards at the main entrance to Pinal but an ominous "U.S. Government Property-Restricted Area" sign greets anyone trying to enter the area of the facility controlled by the company.
After visiting the Flightline Grill Restaurant, which is open to the public and where Marana Aerospace employees dine for meals, a white Marana Aerospace security pickup truck followed this editor's vehicle to the main entrance of the facility. Only after the editor's vehicle passed through the unmanned gate did the security vehicle make a U-turn.
One of Relativity's principal officers is Leslie Armitage, who is also a co-founder of The Carlyle Group-Europe. Carlyle is a major investment company on whose board at the time of 9/11 was George H. W. Bush and whose major investors included the Bin Laden family of Saudi Arabia. Carlyle is no stranger to the aviation business, having invested in partnerships with Northrop Grumman and United Defense Industries.
The combination of the Carlyle Group, the CIA, drone aircraft capabilities, civilian jet aircraft, and the fact that 9/11 author and pilot Phil Marshall may have paid with his and his family's lives for having this and possibly additional information about these connections certainly calls for a re-examination of the circumstances behind the 9/11 attacks and a new investigation by the state of California and the FBI into the death of Marshall and his two children in January 2013.
Wayne Madsen is an investigative journalist who consistently exposes cover-ups from deep within the government. Want to be the first to learn the latest scandal? Go to WayneMadsenReport.com subscribe today!